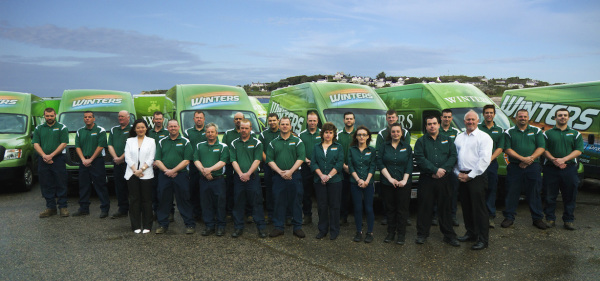 Tim Flynn, Master Plumber and owner of Winters Home Services, an award-winning provider of plumbing, heating, cooling, and home monitoring services to residents throughout the greater Boston area, has become a Boston Power Player expert contributor.
As a Boston Power Player, Flynn joins the ranks of fellow business professionals in helping Boston residents meet their real estate goals.
With 20 years in the business and 60,000 happy customers, Flynn helps home sellers (and buyers) maneuver the complex heating, cooling and plumbing issues that can arise in a home's sale or purchase. Flynn's company also provides state-of-the-art CarePlus Home Monitoring, which enables homeowners to monitor and access their home's most important systems – from water sensors and home energy meters, carbon monoxide detectors and thermostats to lights, door locks and more – through any Smart device. Essentially, Winters Home Monitoring provides home automation and monitoring to ensure the optimal operation and safety of home systems and the maximum in energy savings, backed by "first-in-line" service and accountability that only a local company can provide.
"A house is one of the largest investments we make. Buyers are looking for homes with energy efficient systems that are in tip-top shape and sellers are aware of this.  But equally as important, and a tremendous selling point, is home monitoring technology, which provides significant value and should be incorporated," explained Tim Flynn, owner of Winters Home Services. "Homeowners are looking for safety and greater peace of mind, which is exactly what home monitoring provides."
Flynn discusses Home Monitoring with Chris Devin of Real Estate Talk-Boston on Boston.com, in a video entitled "The Ultimate 21st Century Solution To Leaving Your Home in the Winter". The video is an overview of Winters Home Monitoring technology and service program that keeps homeowners and their families safe while providing peace of mind. Click link to learn more: https://www.youtube.com/watch?v=OIwS_IR-028
To learn more about Tim Flynn and Winters Home Services, visit wintershomeservices.com.
About Winters Home Services
Founded in 1994, Winters Home Services is an award-winning service company based in Cambridge, Massachusetts, specializing in plumbing, heating, cooling, and home monitoring services. Offering the first-to-market CarePlus Home Monitoring Program and lifetime guarantees on many of their services, the company focuses on high quality workmanship and consistent world-class customer service. Winters Home Services promises to fulfill the needs of every customer with a sense of urgency, ensuring comfort, safety and well-being.
Winters Home Services is one of the largest residential plumbing companies in the greater Boston-area with a large fleet on the road and a full staff of licensed and insured plumbers and technicians.  Dedicated to supporting the community, Winters is a sponsor of the Duckling Day Parade annual Mother's Day event and a partner of the Friends of the Public Garden, a non-profit organization that works to protect and improve Boston's first public parks: the Boston Common, Public Garden, and Commonwealth Avenue Mall. The company is an ongoing supporter of events at Club Café.
For more information, call 866-482-7586 or visit wintershomeservices.com.
Tim Flynn of Winters Home Services Becomes Boston Power PlayerRead More