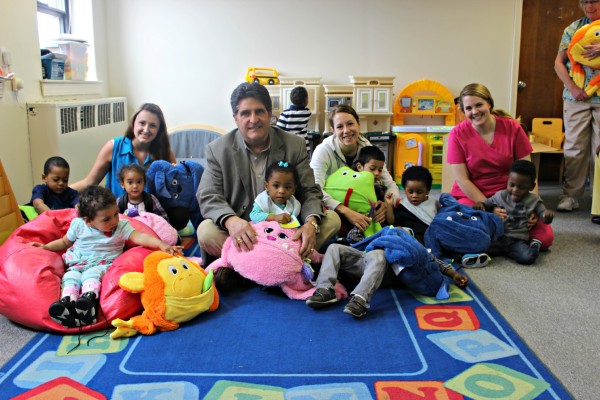 MARION, MA…
When you think of general contractors, you usually don't think "warm and fuzzy". That's unless you ask the children at Franciscan Hospital for Children in the Brighton section of Boston. After a recent visit by South Coast Improvement Co. to deliver 25 pillow puppets to the children, the consensus there is that GC's, particularly those from South Coast Improvement, are all that and a bag of potato chips.
"We've done a lot of work over the past few years at Franciscan Hospital and the cooperation of the staff and patients and their families has been phenomenal," said Sean Whalen, South Coast Improvement's vice president of business development. "We go to great lengths to minimize any disruption to hospital activities. That's only possible with help of staff and the patience of patients. The pillow puppets for the kids are just our way of saying thank you."
South Coast Improvement's projects at Franciscan Hospital have included the relocation of the reception desk, a renovation accomplished without ever closing down the entrance lobby. To minimize the impact to traffic flow and in and out of the hospital, South Coast completely constructed the new reception desk off-site and prepared the wiring in advance. Installation was as simple as dropping in the desk and plugging in the electrical.
Installation of the new reception desk wasn't the only thing special about this project. South Coast Improvement designed the millwork for the reception area to look like blades of sea grass waving in the breeze. South Coast Improvement also designed a cloud system, constructed out of drywall, and hung it over the new reception desk.
"We're delighted with work performed by South Coast Improvement on the reception area," said Chantal Brandimarte, advancement associate for Franciscan Hospital for Children. "As for the pillow puppets, I can't say I'm surprised. The crews who have worked on these projects have always had a soft spot for the kids and this generous gift just shows that."
South Coast Improvement Co is a recognized leader in providing building and renovation services to a client base of senior living, healthcare and institutional clients. In addition to Franciscan Hospital for Children, South Coast Improvement has also done extensive projects at hospitals such as the Beth Israel Deaconess Hospital-Plymouth (the former Jordan Hospital) and such healthcare facilities as National Health Corporation, Sun Health Care Group and Welch Healthcare and Retirement Group.
For more information on South Coast Improvement, Inc., please call 508-748-6545 or visit www.southcoastimprovement.com.
South Coast Improvement, Co. says 'thank you' to Franciscan Hospital with pillow puppets.Read More