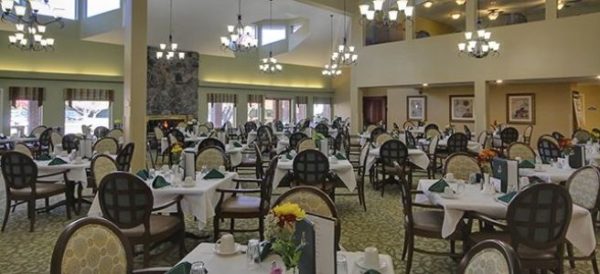 JOHNSTON, RI and MARION, MA…
South Coast Improvement Company (SCI), a design-build general contractor serving New England and the Mid-Atlantic states, recently began the final phase of an exterior renovation at Brookdale Pocasset Bay Assisted Living facility located at 12 Old Pocasset Lane in Johnston, Rhode Island.
The project, which began earlier this year, features renovations to the exterior envelope. This includes new siding, new sheeting, new epoxy on the decks, new paving, new sidewalks and new windows throughout. The anticipated completion date is later in May. The total cost of the renovation is $1.6 million.
"We're thrilled to head into the home stretch of this important exterior project for Brookdale Pocasset Bay," said Tom Quinlan, president of South Coast Improvement Company. "What's most gratifying about this project is that our company did the interior renovation last fall. It's kind of nice to see the entire renovation unfold."
Last September, South Coast Improvement Company completed a renovation of common areas spaces on the first floor of the facility. That included renovations of two kitchens, two dining areas, a hair salon, and the public restrooms, as well as new carpeting and paint throughout. The entire renovation cost was $541,000.
"One of the challenges of renovating an occupied building is keeping the impact on day-to-day operations and activities to a minimum," said Quinlan. , president of South Coast Improvement Company. "By developing a process and through coordination with staff, we can take on renovation projects like these—interior or exterior—and have minimal impact on residents and day-to-day activities."
Brookdale Pocasset Bay is owned by Brookdale Senior Living Solutions. Brookdale Senior Living Solutions offers assisted living, skilled nursing, memory care, independent Living and Continuing Care Retirement Communities across the U.S. For more information, visit www.brookdale.com.
Based in Marion, Mass. and with an office in Reading, Pennsylvania, South Coast Improvement Co is a recognized leader in providing building and renovation services to a client base of senior living, healthcare, institutional and retail clients. For more information, please call 508-748-6545 or visit www.southcoastimprovement.com.
About South Coast Improvement Company
South Coast Improvement offers a range of design, construction and management services across a variety of sectors—interiors as well as exteriors—including office buildings, health care facilities, educational institutions, commercial properties, assisted living facilities, and residential communities.  South Coast Improvement's services include: Preconstruction analysis; Construction management; General contracting; Design/build services;  Capital improvement; Building envelope improvements; and Interior renovations.
For more information, visit www.southcoastimprovement.com or call 508-748-6545.
South Coast Improvement, Co. begins final phase of Brookdale Pocasset Bay renovationRead More