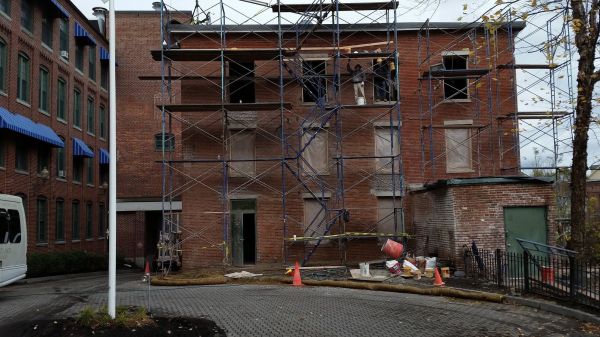 ANDOVER, MA and MARION, MA…
South Coast Improvement Company (SCI), a design-build general contractor serving New England and the Mid-Atlantic states, was recently contracted by Atria Senior Living to restore a historic mill building in Andover, Massachusetts. The renovated mill, the former Marland Manufacturing Company building, would become part of Atria's Marland Place, a senior living community for Andover's active older adults.
The $4 million renovation of the former textile mill will include a complete gut and demo of the entire interior of building, as well as a repointing of the entire brick façade. In addition, the renovated building will feature: all new electrical, HVAC, plumbing and Life Safety; new framing and reconfiguration of existing space to accommodate needs of incoming administrative offices with continuous ongoing consultation as to maintaining historical aspects of the building; site work around entire building to facilitate new MEP hookups and feeds as well as ensuring proper drainage; construction of a new elevator and shaft for ADA compliance; and roofing, flashing and moisture protection.
"As a general contractor, we love new construction as well as the next contractor, but there's something special about restoring these historic buildings and bringing them into the 21st century that brings a great feeling of satisfaction," said Tom Quinlan, president of South Coast Improvement Company.
Work on the Atria Marland Place began on November 1 and is anticipated to be finished in spring 2015.
The Atria Marland Place represents the second recent project South Coast Improvement has undertaken for Atria Senior Living. The Marion, MA-based contractor just completed work on $3.5m renovation project at Atria Crossroads Place in Waterford, Connecticut.
South Coast Improvement Co is a recognized leader in providing building and renovation services to a client base of senior living, healthcare and institutional clients. For more information, please call 508-748-6545 or visit www.southcoastimprovement.com.
Mill work. South Coast Improvement, Co. begins work on Atria Marland Place project in Andover, MARead More