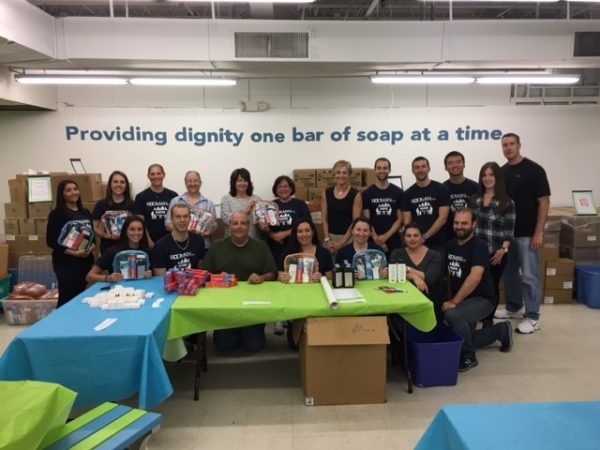 Rodman CPAs, a full service tax and accounting firm in Waltham, MA recently volunteered a day of service at Hope and Comfort, a Newton, MA-based nonprofit that provides essential personal care products to adults and children in need within Greater Boston.
On Friday, October 21, 2016, Rodman CPAs' team of 19 volunteered at Hope and Comfort, helping with their essential "Soap for Hope" program. The Rodman team packed 488 hygiene kits containing soap, shampoo, deodorant, toothpaste and a toothbrush, for distribution to students in Boston Public Schools (through Hope and Comfort's partnership with their Health and Wellness Department), as well as to Boys and Girls Clubs of Boston, and the Waltham Boys and Girls Club.
Packing the kits was an involved process: the Rodman team sorted and counted the hundreds of hygiene items that their firm's employees had collected for Soap for Hope over several weeks and made hundreds of cards to be included within the hygiene kits. They also wrapped and decorated four collection boxes to be used for product collection drives in the community, and completed a variety of other tasks to help prepare items for distribution.
One team member, Experienced Associate Justin Horr, also raised thousands of dollars for Hope and Comfort while competing in the World's Toughest Mudder obstacle course challenge in Las Vegas this month.
"Hope and Comfort is very thankful to everyone from Rodman CPAs for all of their volunteer efforts to help us get essential hygiene products to people in need throughout Greater Boston. Not only did employees volunteer their time, they also collected hundreds of hygiene items and made a very generous financial donation. We could not help as many people as we do without great volunteers and donors like everyone at Rodman CPAs," Jeff Feingold, Hope and Comfort President and Founder.
Since its founding in 2011, Hope and Comfort has distributed more than 230,000 items in total, and more than 113,000 of those items were distributed in 2016.
"Hope and Comfort supports and improves the health and self-esteem of thousands of children and adults in our community," said Steve Rodman, president of Rodman CPAs. "We are pleased to have the opportunity to work with such a great organization and will continue to support their efforts."
Community outreach is woven into Rodman CPAs' company culture. The firm has a dedicated volunteer outreach team led by Senior Associates Kate Doherty and Elysha Sturm, and every staff member has an opportunity to volunteer. Over the years, Rodman CPAs has supported a number of organizations and causes in addition to Hope and Comfort, including Camp Clark in Plymouth, Rosie's Place in Boston and The Massachusetts Adoption Resource Exchange (MARE).
About Hope and Comfort
Founded in 2011, Hope and Comfort is a 501c3 organization that works with distribution partners including food pantries and children's organizations to distribute essential items including soap, toothpaste, and deodorant to children and adults in need throughout Greater Boston.
Hope and Comfort operates three key programs: Soap for Hope (their largest program) provides hygiene kits such as those packed by Rodman CPAs team to Boston Public Schools and area Boys and Girls Clubs; Stock the Shelves, which provides items to 13 partner food pantries each month; and Toiletries for US, which gives products to a variety of shelters and human services organizations throughout the area on an as-needed basis. The organization operates with an eight-member board, one employee and more than 550 volunteers (year-to-date). For more information, visit hopeandcomfort.org.
About Rodman CPAs
Rodman CPAs provides tax advisory, accounting, and business strategy to small and mid-sized emerging and established businesses. Named one of Accounting Today's Best Accounting Firms to Work for, and one of the largest accounting firms in Massachusetts by the Boston Business Journal, Rodman CPAs offers an innovative and strategic approach with the personal touch of a smaller regional CPA firm. For more than 50 years, Rodman CPAs has been specializing in customized accounting and tax solutions that improve business performance, processes, financial operations, and information technology.
The firm serves as a true business partner, helping clients perform and succeed during each stage of the business lifecycle. As domain experts in alternative energy, the "Green Team" at Rodman CPAs works with renewable energy producers and businesses throughout the U.S. offering tax advisory, financial, accounting services, and Investment Tax Credit (ITC) studies.
Rodman CPAs is an independent member firm of BDO Alliance USA, which enables them to expand services to clients by accessing the resources of BDO USA, LLP and other Alliance members, ensuring greater flexibility, efficiency, and cost-effectiveness.
For more information, email info@rodmancpa.com, visit their website at www.rodmancpa.com or contact (617) 965-5959.
Rodman CPAs Volunteer a Day of Service at Newton based nonprofit Hope and ComfortRead More