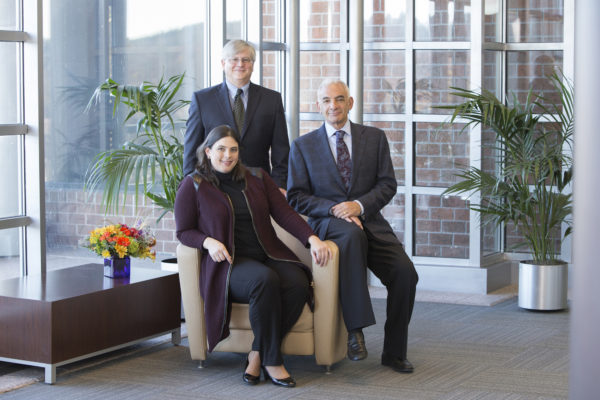 The Waltham, MA-based full service tax and accounting firm known as Rodman & Rodman P.C. has rebranded and officially announced their new company name, Rodman CPAs, and unveiled a new firm graphic identity.
The firm has rebranded to better reflect the firm's growth, expertise, and comprehensive accounting and tax solutions for clients in a range of industries, including alternative energy.
Steve Rodman CPA, MST, the firm's president, and partners Kathy Parker CPA, MST and Tom Astore CPA, JD, engaged the marketing and branding expertise of Hailer Marketing Associates and Paris Design to assist with refreshing the firm's brand.
Initially, the Rodman team was simply looking to update their website after relocating from Newton (where they had been located for two decades) to University Office Park in Waltham. The new 8,500 square foot Waltham office nearly doubled the firm's space and supported Rodman CPAs' growth, while enabling them to expand their offerings and provide on-site educational and networking capabilities.
The decision to rebrand came about from a perceived need to reposition Rodman CPAs in the general marketplace – which encompassed the firm's name change, a better definition of their scope of services, updated messaging, and the development of brand pillars and a positioning statement. All which is reflected through the new name, graphic identity, taglines, collateral, and (soon to be launched) new website.
"One of the first things that we discovered in this process was that no one referred to the firm as Rodman & Rodman P.C. The name by which they were already known and referred to in the industry was Rodman CPAs," explained Elizabeth Hailer, who managed the rebrand project. "The relocation provided a great opportunity for the firm to transform the new space with the new brand."
In phase one of the rebrand process, Hailer Marketing reviewed Rodman CPAs' key priorities and conducted independent research on their market and brand, which included surveying several  constituents as well as key stakeholders. A competitive analysis and internal business strategy and assessment were completed. Phase two of the process involved developing the brand pillars, messaging and positioning statement based on the data, and collaborating with Paris Design in the build out of the firm's identity and visuals to communicate the brand.

The firm's newly designed "Rodman CPAs" graphic identity represents change and growth, while highlighting their focus on alternative energy. The "O" in Rodman uses a simple, yet refined visual that is not only memorable, but reflects how the firm helps clients perform and succeed during each stage of their business lifecycle, as does the logo tagline "Collaborative Approach. Practical Advice."
"The process of rebranding, which involved an in-depth analysis of our goals, messaging and company culture, has taken us full circle and set us on our future path. Our enhanced brand reflects our commitment to being a strategic partner to our clients through a collaborative approach and practical advice," explained Steve Rodman.
About Rodman CPAs
Rodman CPAs provides tax advisory, accounting, and business strategy to small and mid-sized emerging and established businesses. Named one of Accounting Today's Best Accounting Firms to Work for, and one of the largest accounting firms in Massachusetts by the Boston Business Journal, Rodman CPAs offers an innovative and strategic approach with the personal touch of a smaller regional CPA firm. For more than 50 years, Rodman CPAs has been specializing in customized accounting and tax solutions that improve business performance, processes, financial operations, and information technology.
The firm serves as a true business partner, helping clients perform and succeed during each stage of the business lifecycle. As domain experts in alternative energy, the "Green Team" at Rodman CPAs works with renewable energy producers and businesses throughout the U.S. offering tax advisory, financial, accounting services, and Investment Tax Credit (ITC) studies.
Rodman CPAs is an independent member firm of BDO Alliance USA, which enables them to expand services to clients by accessing the resources of BDO USA, LLP and other Alliance members, ensuring greater flexibility, efficiency, and cost-effectiveness.
For more information, email info@rodmancpa.com, visit their website at http://www.rodmancpa.com or contact (617) 965-5959.
Waltham Based CPA Firm Rebrands and Announces New Name and LogoRead More