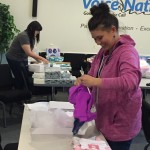 VoiceNation, the industry leader in live answering and virtual receptionist services, made the holidays brighter for 27 local families through their "Operation Give Back" outreach program.
Now in its fourth year, Operation Give Back is the name given to VoiceNation's outreach effort to help ensure local children living in shelters and those in need of assistance receive gifts during the holiday season.
VoiceNation worked with Jackson County Family Connection in Jefferson and Georgia CALLS in Buford to provide holiday gifts for 65 children, ranging in age from three months to 17 years old. The gifts included BMX bicycles, arts and crafts, clothes, shoes and many different toys.
How it Works
VoiceNation receives referrals from agencies that are working with families in need. VoiceNation provided their employees with funds to purchase gifts along with Operation Give Back profile folders of the children in need, which include the child's age, gender, holiday wish list and preferences, such as their favorite color, clothing size, favorite activities, and hobbies.
"Many participants in Georgia CALLS' re-entry program are working hard to become CEOs of their own lives and to do better by their families, but are still in need of assistance. They are amazed at the outpouring of support from anonymous donors," explained Mark Mobley, Executive Director of Georgia CALLS.
"Our Operation Give Back program has become a highly sought after volunteer initiative here at VoiceNation. As our staff learns about the children in need, they feel a connection to them and are incredibly enthusiastic about the gifts they purchase for them," explained Jay Reeder, the company's president. "Operation Give Back is a tremendous opportunity to support children and families in need within our community while spreading holiday cheer."
VoiceNation's Employee Volunteer Program provides ample opportunity for every staff member to volunteer and work towards a cause they feel passionate about on a local, national, or global scale.
About Jackson County Family Connection
The mission of Jackson County Family Connection is to improve the well-being and health conditions of families through a collaborative system of physical, mental, emotional, and spiritual supports. For more information, visit www.jcfamilyconnection.com or call 706-367-3021.
About Georgia CALLS
Georgia CALLS, a program in partnership with the Governor's Office of Transition, Support & Reentry, the Georgia Department of Corrections and Phillips Transitional Center, is transforming mindsets, growing leaders and building entrepreneurs, one life at a time. Utilizing a powerful combination of exclusive job/life skills training, paid work experience in the call center, intensive case management services, and optional discipleship classes, participants in the Georgia CALLS program develop their character, explore their own entrepreneurial dreams, and in turn give back to their own communities. Georgia CALLS works to make a lasting community impact by cultivating entrepreneurs and mentoring participants to be the CEOs of their lives. For more information about Georgia CALLS, visit www.gacalls.org
About VoiceNation
VoiceNation is a leading provider of 24-hour live answering services and call center solutions. Named "Top Provider in Industry" by PC World, VoiceNation is positioned as a knowledge leader with innovations in pricing, service, and proprietary open source technology.
Over 50,000 businesses worldwide, including Comedy Central, Delta, Dunkin' Donuts, Rolls Royce, and StateFarm trust VoiceNation as their professional telephone answering service. Founded in 2002, VoiceNation is a privately-held company that invests heavy emphasis in staff development and community outreach opportunities. To learn more about VoiceNation, visit www.qualityansweringservice.com.
Dozens of families benefit from VoiceNation's "Operation Give Back"Read More