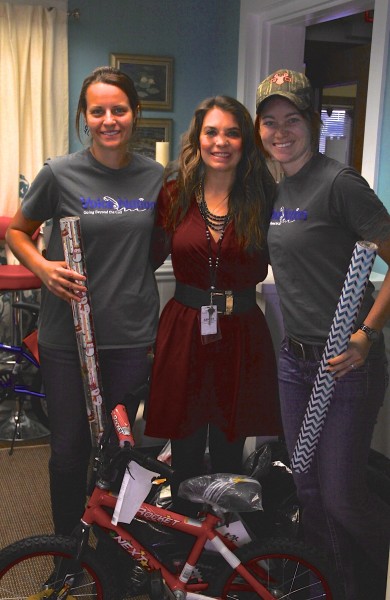 VoiceNation, the industry leader in live answering and virtual receptionist services, has made the holidays a bit brighter for dozens of local children.
"Operation Give Back" is the name given to VoiceNation's outreach effort to help ensure local children living in shelters and those in need of assistance receive gifts this holiday season. The program is in its third consecutive year and a highly sought after volunteer initiative among VoiceNation employees.
VoiceNation president Jay Reeder explains, "It is not only an enormous privilege, but a responsibility to care for those less fortunate. Through Operation Give Back, we have the opportunity to show love and kindness to children in our local community while spreading holiday cheer and good fortunes to the families we're able to help."
Like years before, VoiceNation equipped its staff with Operation Give Back profile folders complete with the child's name; gender; age; holiday wish list; preferences, such as their favorite color, clothing size, favorite activities, and hobbies; as well as funds to purchase the gifts. Between the detailed profile and hype surrounding this initiative, employees are personally drawn and connected to their child in need and purchase gifts with incredible enthusiasm and heart.
"December is a time for giving and as a company, we see the generosity of this initiative reflecting through the actions of our staff. Many go above and beyond to personally provide gifts for these children, who they have never met, but have touched their hearts in a unique and special way," added Reeder.
VoiceNation donated gifts to Supporting Adoption & Foster Families Together (SAFFT) and Good News At Noon to support a total of 46 children ranging in age from one to 16 years old from 15 families.
"It means a great deal to the parents. They're so amazed that anonymous donors would provide an avenue for a parent to give their kid Christmas with nothing in return," said Ashley Anderson, Executive Director of SAFFT.
According to Hannah Parker, Children and Youth Director for Good News At Noon, "The kids are going to feel so special. Operation Give Back is an answer to our prayer for them."
The gifts, which ranged from bicycles, books and toys to clothing, games and more, were delivered to SAFFT and Good News At Noon on December 17th.
A large part of VoiceNation's company culture revolves around their Employee Volunteer Program, which encourages staff to give back and get involved by helping others.  Through the program, every staff member has an opportunity to volunteer and work towards a cause they feel passionate about, on a local, national, or global scale.
To learn more about SAFFT, visit http://safft.org/. To learn more about Good News At Noon, visit http://www.goodnewsatnoon.org.
About VoiceNation
VoiceNation is a leading provider of 24-hour live answering services and call center solutions. Named "Top Provider in Industry" by PC World, VoiceNation is positioned as a knowledge leader with innovations in pricing, service, and proprietary open source technology.
Over 50,000 businesses worldwide, including Comedy Central, Delta, Dunkin' Donuts, Rolls Royce, and StateFarm trust VoiceNation as their professional telephone answering service. Founded in 2002, VoiceNation is a privately-held company that invests heavy emphasis in staff development and community outreach opportunities.
To learn more about VoiceNation, visit http://www.qualityansweringservice.com.