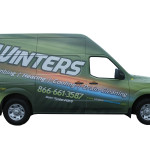 With artic temperatures and extremely low wind chill this week, Winters Home Services, an award-winning provider of plumbing, heating, cooling, and air quality services to residents throughout the greater Boston area, shares tips on how to prevent pipes from freezing.
"Pipes get cold, and they need warmth just like we do. Homeowners should properly insulate them and take steps to avoid pricy disasters," explained Tim Flynn, owner of Winters Home Services.
Here are a few tips from the Winters plumbing pros:
The pipes under the kitchen and bathroom cabinets are usually not insulated, but those areas are considered "cold space". Be sure to open kitchen and bathroom cabinet doors to allow warm air to circulate around the pipes. (Remove any hazardous household cleaners when leaving doors open, so children and pets do not have access to them.)
Turn on your water taps in the kitchen and bathrooms to a slow drip/trickle, as this prevents the pipes from freezing.
At night, leave your thermostat set at the same daytime temperature.
The basement, attic and garage are unheated areas where water supply lines may be located. These pipes need to be insulated in order to prevent them from freezing. There are specific products that may be found at most home improvement stores such UL-listed "heat tape" or a "pipe sleeve" which may be used to protect exposed water pipes. In a pinch, you can also use layers of newspaper to wrap the exposed pipes to protect them during freezing temperatures until you can properly insulate them.
"By taking these measures to prevent your pipes from freezing, your water and heating bills may be slightly higher this month, but you'll have avoided a very costly repair job due to frozen or burst pipes," noted Flynn.
If your pipes do freeze, you can safely treat them by applying heat to a section of pipe using a hair dryer on the pipe or by wrapping an electric heating pad around the pipe. Or, instead wrap towels soaked in hot water around the pipe. Turn the tap on while you apply the heat, so as the water starts to flow, it will further help melt the ice in the pipe. Never use any sort of open flame or open flame device to defrost the pipes.
If you need guidance or service for frozen pipes, contact the Winters team at 617-776-5950.
About Winters Home Services
Founded in 1994, Winters Home Services is an award-winning service company based in Cambridge, Massachusetts, specializing in plumbing, heating, cooling, drain cleaning and air quality services. Offering the first-to-market CarePlus Home Monitoring Program and lifetime guarantees on many of their services, the company focuses on high quality workmanship and consistent world-class customer service. Winters Home Services promises to fulfill the needs of every customer with a sense of urgency, ensuring comfort, safety and well-being.
Winters Home Services is one of the largest residential plumbing companies in the greater Boston-area with a large fleet on the road and a full staff of licensed and insured plumbers and technicians.  Dedicated to supporting the community, Winters is a sponsor of the Duckling Day Parade annual Mother's Day event and a partner of the Friends of the Public Garden, a non-profit organization that works to protect and improve Boston's first public parks: the Boston Common, Public Garden, and Commonwealth Avenue Mall. The company is an ongoing supporter of events at Club Café. For more information, call 866-482-7586 or visit wintershomeservices.com.