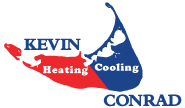 Given the acceptance of geothermal in the marketplace and the newer technologies available, Kevin Conrad Heating & Cooling of Nantucket has expanded their geothermal solutions.
Kevin Conrad Heating & Cooling is the premier, certified geothermal heating and cooling system expert installer, as well as Nantucket Island sheet metal instructor, catering to many residential and commercial customers.
"With a geothermal heating and cooling system, homeowners can benefit from utility bills that are between 25 and 70 percent lower than conventional systems. Geothermal requires less maintenance, yet it provides higher levels of comfort year-round. Additionally, it's environmentally responsible," said Kevin Conrad, owner.
A geothermal heating and cooling system is unlike conventional natural gas or oil systems. It takes advantage of the earth's consistent temperature by way of geothermal heat pumps, which move heat from the earth to the home via electricity.
With geothermal, there are no carbon dioxide, carbon monoxide or hydrocarbon emissions. Geothermal zoned heating provides superior comfort, and geothermal central air is twice as efficient as conventional central air systems.
High Quality Equipment and Expert Installation
Using special software and computers, Kevin Conrad Heating & Cooling designs each system for a home or business.  The geothermal HVAC equipment manufacturers that Kevin Conrad Heating & Cooling use are the best available, to ensure that the system will provide low impact comfort for many trouble free years.
The company has a full sheet metal shop on premise to fabricate custom ductwork for any installation.  Kevin Conrad Heating & Cooling ducts are custom ductwork, which increases return on investment. Proper insulation is key, particularly in stately homes to ensure heat/cool air doesn't escape, and Kevin Conrad Heating & Cooling applies energy efficient insulating spray foam to all applicable areas.
Kevin Conrad Heating & Cooling offers comprehensive preventative maintenance, which includes an annual system tune-up and on-call 24/7 emergency service.
Conrad continued, "Geothermal heating and cooling saves money as well as preserves Nantucket's pristine environment. It's a winning combination."
About Kevin Conrad Heating & Cooling
Kevin Conrad Heating & Cooling has been serving Nantucket residents and businesses since 2004.  A fully licensed, insured and certified HVAC contractor, Kevin Conrad Heating & Cooling is recognized by the Better Business Bureau (BBB) and Dun & Bradstreet (D&B). They are members of the Nantucket Island Chamber of Commerce.
Kevin Conrad Heating & Cooling provides equipment, installation and service for air conditioning, oil and gas boilers, humidification systems, heat pumps, geothermal heating & cooling and ventilation systems. The company also provides duct cleaning, self-learning thermostats and sheet metal fabrication.
Renowned for their expertise, high quality products and world-class customer service, Kevin Conrad Heating & Cooling is trusted by many islanders and numerous businesses. They service and install the largest and smallest systems on the island. The company's founder, Kevin Conrad, was born and raised on Nantucket and understands the unique needs of customers living 30 miles off the mainland. For more information, visit the website at www.conradhvac.com.