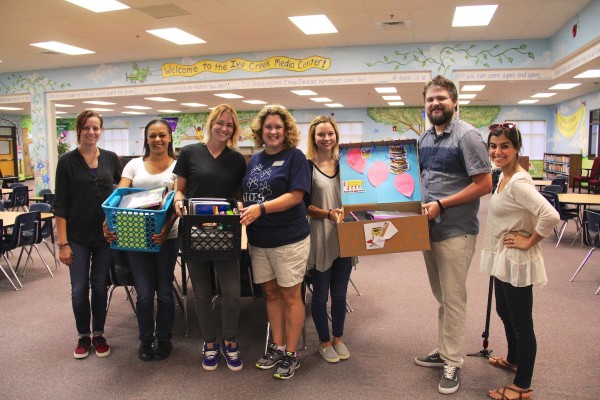 Voice4Nations, the non-profit outreach of virtual phone and live answering service company, VoiceNation, recently held its 3rd Annual School Supply Drive to help local children in need obtain the necessary, and often expensive, supplies for the new school year.
The new school year can be challenging for families who don't have the resources to purchase necessary school supplies. Voice4Nations collected an estimated $400 worth of school supplies, ranging from binders, notebooks and markers to calculators, flash drives and backpacks and more, during their School Supply Drive held in July.
In addition to significant supply donations made by Voice4Nations staff, Snap Fitness in Ellenwood and the Mall of Georgia Wal-Mart made donations.
Voice4Nations delivered the donations on August 4, 2015 to Good News at Noon in Gainesville and Ivy Creek Elementary School in Buford to help families in need of assistance.
"We wish to extend our appreciation to everyone who contributed to the Voice4Nations School Supply Drive which helped dozens of families obtain the essential tools needed for school," explained Jay Reeder, founder of Voice4Nations.
About Voice4Nations
Voice4Nations, the non-profit outreach of VoiceNation, acts as a voice for the nations – a voice for those who can't speak for themselves, like the 50 percent of all children who live in poverty.  Voice4Nations' goal is to create awareness, encourage people to make a difference, and connect them with successful organizations where they can make a contribution directly funding the need.
Voice4Nations addresses three key initiatives: bullying prevention, the global water crisis, and homelessness. To learn more visit http://voice4nations.org
It's Elementary. Voice4Nations' School Supply Drive Benefits Families in NeedRead More