Google reviews are all the rage now, particularly those of the 5-star variety. The more of those you receive, the better your chances of landing a high Google ranking in the hallowed grounds of the three-pack on Google Maps. That's us at the top of the three-pack below: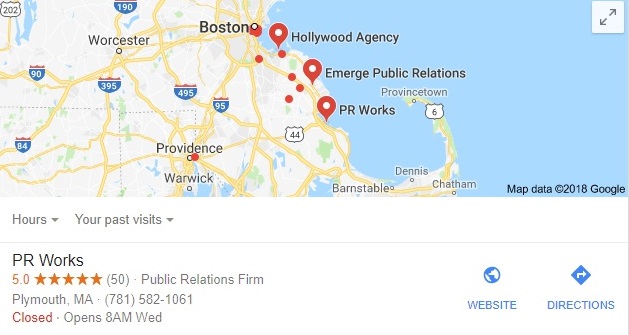 Achieving this type of Google ranking didn't happen overnight. It took about a week to achieve our spot in the three-pack and about month to record the current 51 five-star Google reviews.
While you might think being on the first page of searches for PR firms on the South Shore is a huge benefit, it might not even be the top one.
Isn't a high Google ranking and being on page one the goal? What could be better than that?
You could say having a lot of client testimonials is better. Some of the reviews we received were quite flattering. For example:
"Our organization has been working with PR Works for a few years now and they, without a doubt, perform above and beyond. Their staff is very proactive and takes care of all of our marketing needs without any prompting necessary. They keep their finger on the pulse of what is going on with our organization and then spread the word for us via press releases, eNewsletters, and social media posts. It is a constant relief knowing that PR Works is handling our marketing. Thank you PR Works!"
–Talking Information
"I recommend PR Works for any size company to brand themselves, reach audiences and target markets, build networks or launch a new product. My product has been on the market for over 10 years, and I am still attracting customers from my early press releases by PR Works. With the longevity power of the internet, a strategically written press release is especially important and worthwhile at any stage of your business. PR Works provides that media knowledge and exposure. Their services range from immediate need to long range planning, so affordable for all size businesses and initiatives and no need to change firms down the road."
–Julie White, BedBoots
Perhaps more important than the kind and flattering words are the real-time references these reviews provide. When a prospect asks for references, we not only have them at the ready, but in real-time. We can literally provide those references on the spot. Even more importantly, the prospect knows these references were not coached up or otherwise influenced to speak glowingly of our firm. For many prospects, an authentic, real-time reference can seal the deal.
If you would like to find out how a first-page placement and real-time reference source on Google Maps can benefit your business, drop us a line.