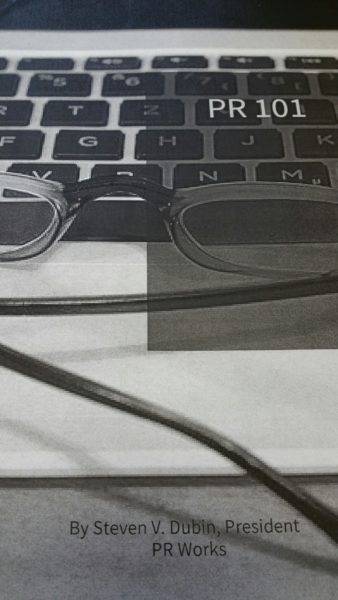 What is free news coverage worth? Creating visibility, credibility and traction, PR is a powerful tool. Don't complicate it. Don't chase other shiny objects.
The new Ebook, "PR 101" is a crash course on public relations and provides a specific outline of how local businesses can develop a consistent PR plan and prosper. The book is free as a download from the PR Works' website. Visit http://www.prworkzone.com/ and click on "Free Ebook, PR 101".
The book includes details on why Public Relations is not just visibility, but a lead generator; how to become a media darling; 21 news release topics that generate press and prospects; 7 phrases that editors hate; how an on-going column makes you the "go to" source; how to groom a CEO as a spokesperson; how to get to the point so that you do not exceeded the average Internet attention span; and how to call a duck and duck and keep writing from running afoul.
"We are overwhelmed by a barrage of messages every day," noted author Steven V. Dubin, president of PR WORKS, a full service public relations firm based in Plymouth, MA and serving clients throughout the U.S. "Given that amount of noise, your messages and news have to be strategic and well-crafted. This book provides a detailed road map to position your company as the leader."
Steven V. Dubin began his media newspaper career by writing feature stories about the Boston Celtics for the New Bedford Standard Times. Steve and Larry Bird shared rookie years. From there he progressed to editing and marketing positions in several publishing companies, including Mariner Newspapers. Dubin was a contributing author to "Get Slightly Famous", a book about becoming a celebrity in your field and attracting more business with less effort and "Tricks of the Trade", the complete guide to succeeding in the advice business.
PR Works is located in downtown Plymouth at 18 Main Street Extension, Plymouth, MA 02060.  For a complimentary Ebook or for more information, please visit www.PRWorkZone.com or contact the firm at SDubin@PRWorkZone.com, (781) 582-1061.
Free Ebook outlines how to grab hearts and headlines. Plymouth, MA man authors PR 101 book.Read More