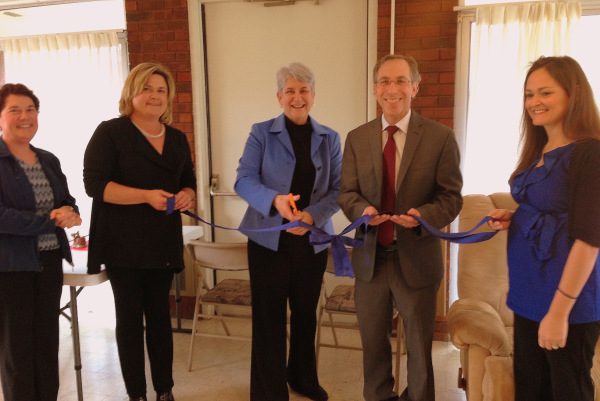 Old Colony Elder Services (OCES), the Brockton based regional agency serving older adults and individuals with disabilities, joined Patrick Administration officials, local leaders, and Plymouth Housing Authority representatives for a ribbon cutting ceremony last week at Southfield, located at 105 South Street, Plymouth, MA.
Southfield is part of the 10 new Massachusetts Supportive Housing Program sites funded by the Patrick Administration to help people "age in place". The Massachusetts Supportive Housing Program, a collaboration of the Executive Office of Elder Affairs (EOEA) and the Massachusetts Department of Housing and Community Development (DHCD), is available in 41 senior public housing locations statewide, and serves 6,360 senior residents. OCES received funding from the EOEA to launch the Supportive Housing Program in Plymouth.
OCES and the Plymouth Housing Authority work collaboratively, providing an "assisted living" environment, with an on-site service coordinator as well as access to 24-hour/daily on-call assistance for residents who prefer to "age in place," connected to family, friends, and community.
Diana DiGiorgi, Executive Director of OCES, and the ribbon cutting ceremony host, said, "We are thrilled with this opportunity to provide supportive services to the 60 Southfield residents and 250 others at the four additional Plymouth sites. This program is a high-quality, cost-effective approach to assisting residents who want to remain in their homes."
About OCES
Founded in 1974, OCES serves 20 communities in Plymouth County as well as Avon, Easton and Stoughton. OCES is a private, non-profit organization located in Brockton and designated as one of 27 Aging Services Access Points (ASAPs) in the Commonwealth of Massachusetts. OCES' mission is to support the independence and dignity of elders and individuals with disabilities by providing essential information and services that promote healthy and safe living. The agency has 190 employees and operates more than 15 programs serving older adults, individuals with disabilities, their families and caregivers. For more information call (508) 584-1561 or visit www.oldcolonyelderservices.org.
New Supportive Housing Program Launched at Southfield in PlymouthRead More