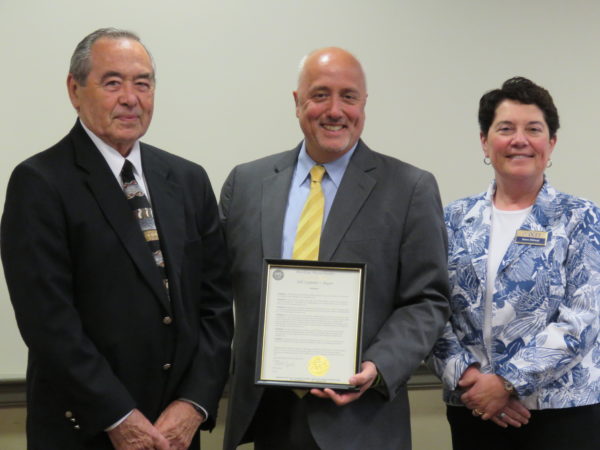 Old Colony Elder Services (OCES), the non-profit agency proudly serving older adults and individuals with disabilities, was honored with a proclamation recognizing OCES as a vital contributor to greater Plymouth County and surrounding communities in celebration of Senior Corps Week.
Senior Corps Week, held May 16 through 20, 2016, provides an opportunity to salute volunteers from the Foster Grandparent Program, Retired and Senior Volunteer Program (RSVP), and Senior Companion Program, to recognize community sponsors and service partners, and to communicate the impact of those who serve. More than 6100 seniors in Massachusetts contribute their time and talents in one of these three Senior Corps programs.
Mayor Bill Carpenter of Brockton addressed the OCES Board of Directors and presented a proclamation to recognize OCES as a vital contributor to greater Plymouth County and surrounding communities. As the Mayor indicated in his remarks, the official proclamation from the City specifically thanks OCES' volunteers and acknowledges their positive impact and value to our communities and to our nation.
A federal citation prepared by United States Congressman Stephen F. Lynch, who represents the Eighth District of Massachusetts, was also presented to the OCES Board of Directors to mark the occasion.  Board President Ted Lang and Executive Director Diana DiGiorgi accepted these awards on behalf of OCES.
OCES manages the RSVP for Plymouth County. There are a variety of opportunities available statewide to RSVP Volunteers. They can conduct safety patrols, renovate homes, protect the environment, tutor and mentor youth, respond to natural disasters, and provide other services across the country. To learn about the opportunities OCES has available, contact OCES' Volunteer Coordinator, Jean-Marie Doyle, at JDoyle@ocesma.org.
About OCES
Founded in 1974, OCES proudly serves greater Plymouth County and surrounding communities. OCES is a private, non-profit organization headquartered in Brockton. OCES is designated as one of 26 Aging Services Access Points (ASAPs) in the Commonwealth of Massachusetts. OCES' mission is to support the independence and dignity of elders and people with disabilities by providing essential information and services that promote healthy and safe living. The agency has 235 employees and operates more than 15 programs serving older adults, individuals with disabilities, their families and caregivers. For more information call 508-584-1561 or visit www.ocesma.org.