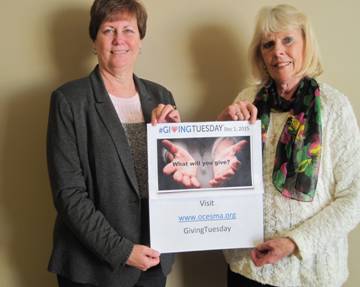 Old Colony Elder Services (OCES), a private, non-profit agency that serves older adults and people with disabilities throughout the greater Brockton and Plymouth county area, has joined the #GivingTuesday movement to raise money for their Emergency Fund program. The fund helps meet needs of low income older adults and people with disabilities who are at-risk, in a crisis or emergency circumstance that threatens their health and/or living situation.
In the same way that Black Friday and Cyber Monday kick off the holiday shopping season, #GivingTuesday (December 1, 2015) kicks off the giving season. #GivingTuesday inspires people to collaborate in improving their local communities and to give back in impactful ways to the charities and causes they support.
OCES' Emergency Fund is intended to meet the needs of low-income older adults and people with disabilities. All too often, these individuals encounter problems that can jeopardize their ability to maintain independence, dignity and well-being. The emergency fund is OCES' primary resource used to assist with fuel, utilities, short-term emergency shelter, medical transport, medications, hot water heaters, food and other needs.
"The number of older adults and people with disabilities in our communities continues increasing. Their needs cannot be addressed through the use of any other resource, which is why our emergency fund is critical," explained Diana DiGiorgi, Executive Director of OCES. "Your help will provide such things as heat, food, and life sustaining medications to older adults and people with disabilities. #GivingTuesday proves that the holidays can be both giving and giving back. We ask the community to join OCES' #GivingTuesday initiative."
To help address local challenges and raise money for the Emergency Fund, visit www.ocesma.org and click on #GivingTuesday. Help spread the word, tell a neighbor, friend or family member how they can support people in need right in their community.
A Day Dedicated to Giving Back
#GivingTuesday is observed on the Tuesday following Thanksgiving and is now in its fourth year. Fueled by the power of social media and collaboration, #GivingTuesday connects individuals, communities and organizations around the world and provides a platform for them to encourage the donation of time, resources and talents. To learn more, visit www.givingtuesday.org.
About OCES
Founded in 1974, OCES serves 20 communities in Plymouth County as well as Avon, Easton and Stoughton. OCES is a private, non-profit organization headquartered in Brockton and designated as one of 27 Aging Services Access Points (ASAPs) in the Commonwealth of Massachusetts. OCES' mission is to support the independence and dignity of elders and people with disabilities by providing essential information and services that promote healthy and safe living. The agency has 225 employees and operates more than 15 programs serving older adults, people with disabilities, their families and caregivers. For more information call 508-584-1561 or visit www.ocesma.org.