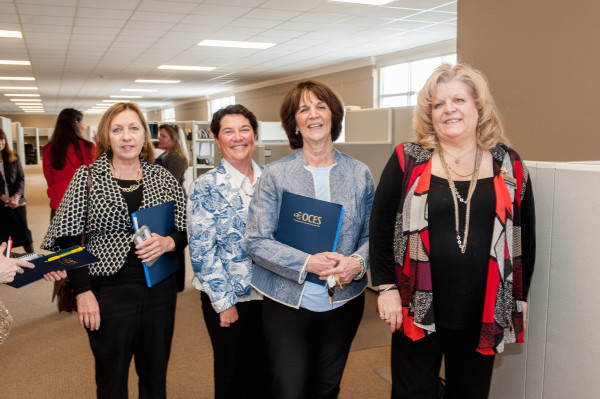 Old Colony Elder Services (OCES), the non-profit agency proudly serving older adults and people with disabilities throughout greater Plymouth County and surrounding communities, is expanding and has opened a new office at 204 South Meadow Road in Plymouth, MA.
OCES officially announced the opening of their new 7,200 square-foot office with an Open House on March 2, 2016. Dozens attended the event, including State Representative Matt Muratore, Monica Mullins District Director, and Betty DeBenedictis, Legislative Aide to State Representative Thomas Calter.
The new location will better enable OCES to accommodate growth. The agency's main office, which houses 200 of their 235 employees, is located at 144 Main Street in Brockton. The Plymouth office currently has 25 employees, with room for up to 50. The Plymouth office is home to OCES' Volunteer Program; key departments such as Home Care, Senior Care Options, Nutrition, and Information and Referral are also represented.
"We serve 23 towns with a comprehensive array of specialized programs which have been developed to address the unique situations and circumstances faces by older adults and individuals with disabilities," explained Diana DiGiorgi, Executive Director. "We're very pleased to have a second location that not only gives us room to grow, but is a bit closer to our consumers, caregivers, volunteers and service partners located around the Plymouth and Wareham areas."
About OCES
Founded in 1974, OCES proudly serves greater Plymouth County and surrounding communities. OCES is a private, non-profit organization headquartered in Brockton and designated as one of 26 Aging Services Access Points (ASAPs) in the Commonwealth of Massachusetts. OCES' mission is to support the independence and dignity of elders and people with disabilities by providing essential information and services that promote healthy and safe living. The agency has 235 employees and operates more than 15 programs serving older adults, individuals with disabilities, their families and caregivers. For more information call 508-584-1561 or visit www.ocesma.org.
Growth and Expansion – Old Colony Elder Services Opens a Second Office in PlymouthRead More