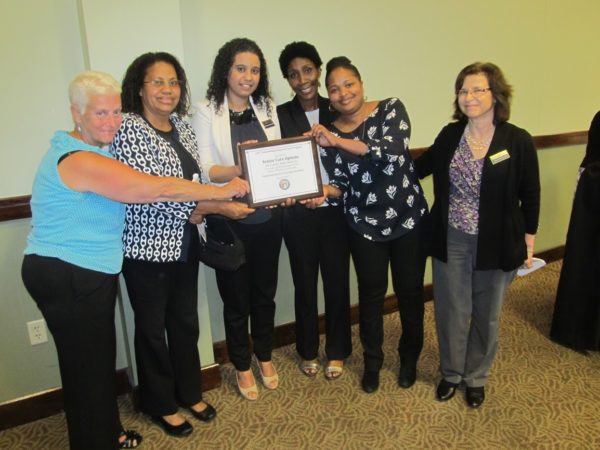 Community Services of Greater Brockton (CSGB) has honored Old Colony Elder Services (OCES), the non-profit agency proudly serving older adults and individuals with disabilities throughout greater Plymouth County and surrounding communities, with three awards acknowledging the work that they do in the community and for their consumers.
One of OCES' key programs and two OCES team members were honored with awards during CSGB's Annual Award Dinner in June.
OCES' Senior Care Options (SCO) program was honored with the "Outstanding Human Services" award. Glenda DeVincentis, LSW, MassHealth Community Programs Director for OCES, presented the award to Betty DosSantos, OCES' SCO Program Manager, who represented SCO's 30 team members. The SCO program seeks to ensure that older adult participants can remain living safely in the community as long as possible. Special note was made of OCES' emphasis on cultural competency, interpreter and language skills availability and their focus on wellness.
The "Excellence in Volunteer Services" award was presented to Sandy Ivers, Nutrition Supervisor at OCES (and Brockton resident) for her 16-year commitment in the production of Community Options, OCES' cable show. Community Options is volunteer-led and provides information about programs and services available to the community in the greater Brockton area.
The "Excellence in Leadership" award was presented to Lynn Smith, Development Manager at OCES (and Brockton resident) for her efforts to bring community organizations together to work cooperatively and establish new events and programs that benefit the whole community, such as the Little Free Library Program, the Stride Toward Freedom History Path in the Frederick Douglass Community Garden, and her founding of the Keith Park Neighborhood Association.
"OCES is delighted and humbled by this recognition of our commitment to our consumers and our community," said Nicole Long, CEO.
For more information about OCES and all the services provided to the community, visit www.ocesma.org.
About OCES
Founded in 1974, OCES proudly serves greater Plymouth County and surrounding communities. OCES is a private, non-profit organization headquartered in Brockton with a second office in Plymouth. OCES is designated as one of 26 Aging Services Access Points (ASAPs) in the Commonwealth of Massachusetts. OCES' mission is to support the independence and dignity of elders and people with disabilities by providing essential information and services that promote healthy and safe living. The agency has 232 employees and operates more than 15 programs serving older adults, individuals with disabilities, their families and caregivers. For more information call 508-584-1561 or visit www.ocesma.org.
Old Colony Elder Services Honored with Three Community Service AwardsRead More