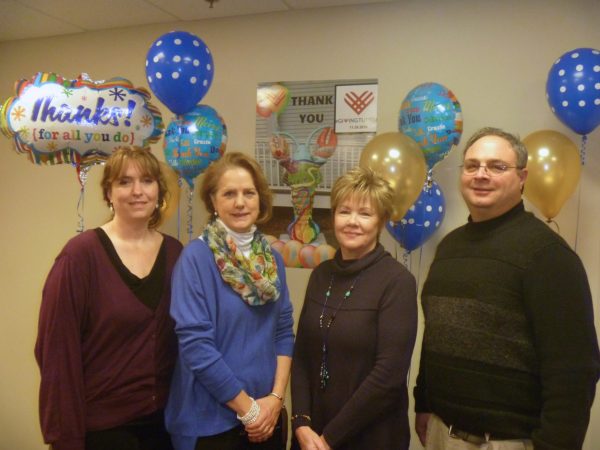 Old Colony Elder Services (OCES), the non-profit agency proudly serving older adults and individuals with disabilities throughout greater Plymouth County and surrounding communities, is pleased to announce that $9,311 was raised for their Emergency Fund during their #GivingTuesday campaign.
A global day dedicated to giving, #GivingTuesday inspires people to collaborate in improving their local communities and to give back in impactful ways to the charities and causes they support. Last year, OCES received a total of $5,145 in #GivingTuesday donations for their Emergency Fund.
OCES' Emergency Fund helps meet the needs of at-risk low-income older adults and individuals with disabilities who are in a crisis or emergency circumstance that threatens their health and/or living situation. All too frequently, these individuals encounter problems that can jeopardize their ability to maintain independence, dignity and well-being.
"We are very grateful to everyone who helped us not only to meet our goal, but to almost double the amount raised over last year's campaign," said Diana DiGiorgi, Chief Executive Officer. "Your generosity will allow us to provide such things as heat, food, and life-sustaining medications to an even greater number of older adults and people with disabilities who are in critical need in our communities."
Each year the OCES fundraising goal is to add to the Emergency Fund's capacity to make a significant difference in the lives of the consumers that are served. OCES' Emergency Fund supports dozens of consumers throughout the year faced with unforeseen emergency events, answering urgent needs such as filling an empty fuel tank, repairing a broken furnace, replacing a mattress that has outlived its usefulness, or providing life-sustaining medications.
Online Donation Capability
Donations help OCES assist older adults and individuals with disabilities who are in need of aid in emergency/crisis situations as well as in need of services such as personal care homemakers, home health aides, home-delivered or community dining meals and more. Donations may be made on OCES' secure online donation page at www.ocesma.org, or by check or money order to OCES, 144 Main Street, Brockton, MA 02301.
A Day Dedicated to Giving Back
#GivingTuesday is observed on the Tuesday following Thanksgiving. Fueled by the power of social media and collaboration, #GivingTuesday connects individuals, communities and organizations around the world and provides a platform for them to encourage the donation of time, resources and talents. To learn more, visit www.givingtuesday.org.
About OCES
Founded in 1974, OCES proudly serves greater Plymouth County and surrounding communities. OCES is a private, non-profit organization headquartered in Brockton with a second office in Plymouth. OCES is designated as one of 26 Aging Services Access Points (ASAPs) in the Commonwealth of Massachusetts. OCES' mission is to support the independence and dignity of elders and people with disabilities by providing essential information and services that promote healthy and safe living. The agency has 235 employees and operates more than 15 programs serving older adults, individuals with disabilities, their families and caregivers. For more information call 508-584-1561 or visit www.ocesma.org.
OCES Receives $9,311 in Donations in #GivingTuesday CampaignRead More