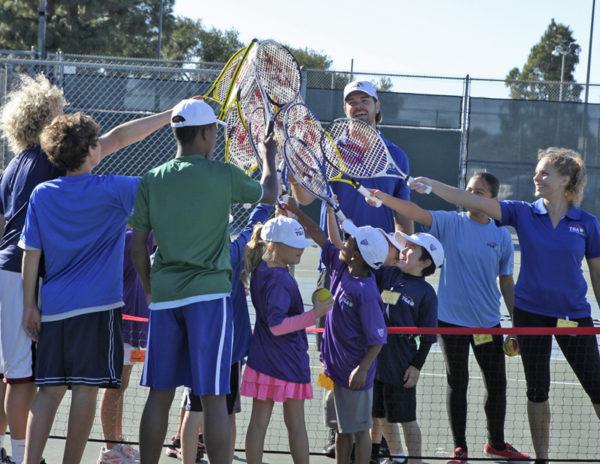 TGA Premier Youth Tennis (TGA acronym stands for Teach, Grow, Achieve), the leading school and community based youth tennis introduction model, and a national partner with the United States Tennis Association (USTA), has come to the South Shore and is helping children develop the enthusiasm and skills to enjoy tennis for life.
As a way to introduce kids from all backgrounds to the fun, positive, character-building aspects of tennis – TGA of Plymouth County offers a fun and engaging six-week after school enrichment program for students in Kindergarten to Grade 8.
Peter Dunlap, a 21 year Hingham resident, and former Plymouth State University varsity tennis player owns and operates TGA of Plymouth County. Dunlap is a USPTA, PTR and TGA Certified Coach.
"Tennis has led me to lifelong friendships, a healthy lifestyle and a positive perspective on life," noted Dunlap. He added, "The game doesn't have to be complicated or foreboding, we try to introduce K-8 kids to a game that is fun and gives them a pathway to whatever level they'd like to bring it to. Studies have shown that many children lead sedentary lives. Oftentimes, they have yet to find a passion that moves them."

TGA of Plymouth County recently announced a new Fall After School Enrichment Program and is registering elementary and middle schools now. All TGA of Plymouth County coaches are certified by TGA, trained by Dunlap and undergo CORI background check.
TGA of Plymouth County has led programs at the Hull Recreation Department and South Shore Sports Center of Hingham.
TGA provides all racquets, balls, training aids and portable nets for all ages, creating a safe and constructive tennis environment. The school only needs to supply the space. For example, half of a basketball court accommodates up to 15 students.
Dunlap and his team have an enthusiasm for tennis and enjoy working with children. The TGA curriculum makes tennis fun and relevant, often connecting it to classroom topics such as math, science and history and current events such as the U.S. Open. Individual and corporate scholarships (to cover all the children in a school's program) are available.
TGA is one of the leading initiatives to grow the sport of tennis and is the only after-school youth tennis program in the country, which is making a significant impact on youth tennis and the future growth of the sport.
TGA, USTA and education experts developed a five level enrichment and instruction based curriculum for ages 5-10, and a play-based curriculum for students age 11-14. The program meets once a week and costs $99 per student. No special equipment or uniforms are needed. The only requirement is that children wear sneakers.
Whether this is the child's first exposure to tennis or they are looking to take it to the next level, TGA programs helps children enjoy and grow with tennis. In partnership with the United States Tennis Association (USTA), TGA has developed a Youth Tennis Player Pathway to help guide families through the journey of learning and playing.
According to the Tennis Industry Association's (TIA) State of the Industry report, there has been "a 4 percent increase in overall tennis participation, to 28 million players, and the highest participation level since 2009."
Dunlap noted, "Tennis is an activity that provides physical exercise and mind/body coordination, while also teaching teamwork, goal setting, sportsmanship, and how to follow rules," explained Dunlap. "TGA programs often incorporate academic lessons with Science, Technology, Engineering, and Math (STEM)."
School superintendents, principals, athletic directors, recreation directors and other school personnel interested in signing up for TGA's Fall Program should contact Coach Peter Dunlap at 781-281-8565 or visit www.PlayTGA.com/PlymouthCounty.
About TGA 
TGA Premier Youth Tennis (TGA) is a youth development program that introduces youth to tennis at elementary and middle schools, childcare centers, and community based organizations. TGA is a national supporting organization of the Afterschool Alliance and Lights on Afterschool and is a corporate advocate and national partner of the President's Challenge on Physical Fitness, as well as the National Council of Youth Sports.
TGA Premier Youth Tennis announces Fall ProgrammingRead More