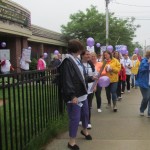 Old Colony Elder Services (OCES), the Brockton based regional agency serving older adults and individuals with disabilities, joined forces with the Brockton Council on Aging (COA) and HarborOne Bank to "March Against Elder Abuse". On June 13th, 60 members from the community and the three organizations marched down Main Street in Brockton in an effort to raise awareness of elder abuse.
June 15th of each year has been designated as World Elder Abuse Awareness Day by the International Network for the Prevention of Elder Abuse and the World Health Organization at the United Nations.
After the march, participants gathered at the Brockton COA where guest speakers Janice Fitzgerald, Director of Brockton COA; Diana DiGiorgi, Executive Director of OCES; Teresa Kourtz, Director of Protective Services at OCES; Pat Foley, Protective Services Intake Worker at OCES; and Bill Carpenter, Mayor of Brockton, shared information on how to assist elders in need and answered questions.
Last year, OCES' Protective Services Department assisted more than 800 abused or neglected elders. OCES helps elders who have been victims of neglect or harm from a caregiver. Types of abuse include physical, verbal, sexual and financial. When there is a report made to OCES, a Protective Services Worker investigates the report, provides support, and if needed, information about resources such as medical, legal, psychological, financial and housing assistance.
"World Elder Abuse Awareness Day is an opportunity to share information and spread awareness about abuse, neglect, and exploitation of older adults. As individuals, and working together, we can make a difference," noted Diana DiGiorgi.
If you know, or suspect, that an elder is being mistreated or neglected, call OCES' Protective Services staff at 508 584-1561, or call the Massachusetts Elder Abuse Hotline at 800-922-2275.
About OCES
Founded in 1974, OCES serves 20 communities in Plymouth County as well as Avon, Easton and Stoughton. OCES is a private, non-profit organization located in Brockton and designated as one of 27 Aging Services Access Points (ASAPs) in the Commonwealth of Massachusetts. OCES' mission is to support the independence and dignity of elders and individuals with disabilities by providing essential information and services that promote healthy and safe living. The agency has 179 employees and operates more than 15 programs serving older adults, individuals with disabilities, their families and caregivers. For more information call (508) 584-1561 or visit www.oldcolonyelderservices.org.