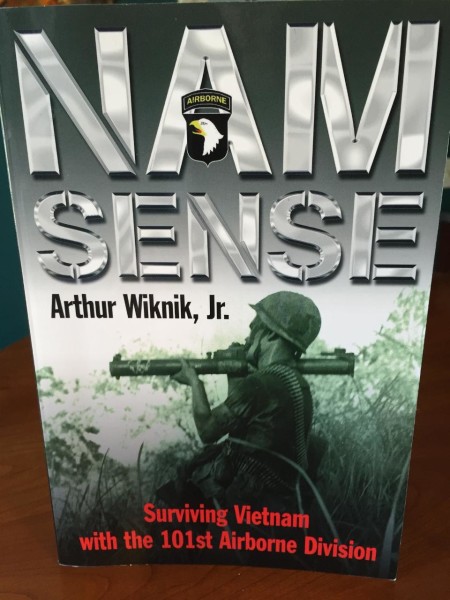 Between Rounds Bakery Sandwich Café recently announced the launch of "Storytelling in the Round", a new monthly program featuring readings by Connecticut's own published (and aspiring) authors at their newly renovated Vernon store located at Vernon Circle Shopping Center, 243 Hartford Turnpike.
Arthur Wiknik, Jr., author of the brilliantly written Nam Sense: Surviving Vietnam with the 101st Airborne Division, is Between Rounds' first featured author scheduled to appear on Sunday, April 17, 2016 at 1:30 p.m. In his book, Mr. Wiknik's shares his account of life and death in Vietnam while serving as a combat squad leader in the 101st Airborne Division.
One Sunday a month from September to May, Storytelling in the Round puts the spotlight on a different local author. During these FREE one-hour events, an author reads an excerpt from their work, which is followed by a question and answer session and book signing. Attendees may purchase copies of the author's book during the event or bring their own copies and have them signed by the author.
"Connecticut is home to so many wonderful authors. Storytelling in the Round gives both the author and the reader an opportunity to connect – right in their own backyard at their local Between Rounds café," noted Jerry Puiia, co-founder of Between Rounds.
All Storytelling in the Round author appearances are arranged by Ron Farina, an author, nationally recognized speaker and veteran. Mr. Farina is the author of several short stories on Vietnam, including the award winning short story Unbreakable Embrace, published by the Pell Center for International Relations and Public Policy (2013).
For more information about future author events, email info@betweenroundsbagels.com.
About Between Rounds
Founded in 1990, Between Rounds Bakery Sandwich Café is a unique bakery café and bagel shop renowned for their fresh, baked-on site bagels and baked goods as well sandwiches, wraps, salads, soups, specialty coffee and a unique line of giftware. Between Rounds offers patrons an upscale, fast-casual dining experience with free Wi-Fi and the added convenience of a drive-thru window.
Between Rounds is expanding and franchise opportunities are available. Between Rounds' current locations include South Windsor, Vernon, Manchester and Tolland.  Corporate headquarters are located at 19A John Fitch Blvd, Route 5 in South Windsor, CT.  For more information about Between Rounds franchise opportunities contact (860) 291-0323 or visit www.betweenroundsbagels.com.
Between Rounds Bakery Sandwich Café Kicks Off Monthly "Storytelling in the Round" on April 17thRead More