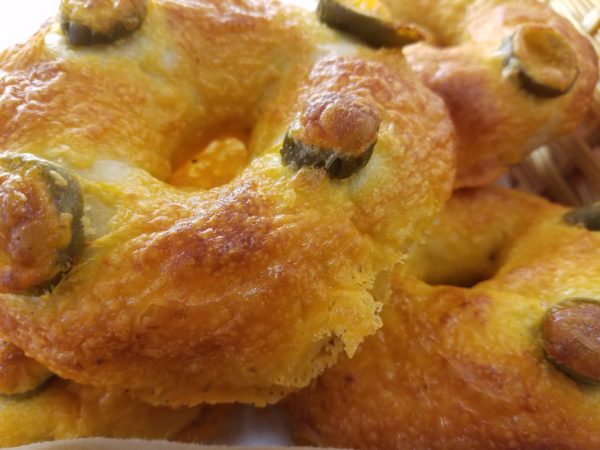 Between Rounds Bakery Sandwich Café, a growing fast casual dining establishment and wholesale bagel supplier, introduces their newest bagel flavor, Jalapeño Cheddar.
Baked fresh daily, Between Rounds' savory Jalapeño Cheddar bagels are chock full of cheddar cheese and have just the right amount of heat for balance and a little kick. They are great for breakfast, a spicy snack or in place of bread on a favorite sandwich.
Between Rounds offers 14 different types of bagels, and their bestsellers are Cheddar and Everything bagels. Between Rounds has been in business for more than two decades and is the brainchild of brothers Jerry and Joe Puiia, who are Staten Island, NY natives and expert bagel makers. The Puiia hallmark is manufacturing and selling their own delicious bagels, which sets them apart from other cafés.
Where to Get Jalapeño Cheddar Bagels
Jalapeño Cheddar bagels may be found at all Between Rounds locations – South Windsor (Route 5), Vernon (Vernon Circle Shopping Center), Manchester (Plaza at Buckland Hills) and Tolland (adjacent to Citgo Express Gas at 206 Merrow Road).
Handcrafted Cream Cheese Flavors
Along with plain and low-fat cream cheese, Between Rounds offers unique flavors of cream cheese such as their popular savory flavor, Roasted Red Pepper, Garlic & Parmesan. Between Rounds seasonal and innovative cream cheese flavors are developed and produced in-house. They are available for a limited time only and rotate depending on the month. The company's traditional cream cheese flavors that are menu staples include plain, low-fat vegetable, scallion, strawberry and vanilla raisin walnut. No preservatives are added to Between Rounds cream cheese creations.
To view Between Rounds complete menu, visit betweenroundsbagels.com.
About Between Rounds Bakery Sandwich Café
Founded in 1990, Between Rounds Bakery Sandwich Café is a unique bakery café and bagel shop renowned for their fresh, baked-on site bagels and baked goods as well sandwiches, wraps, salads, soups, specialty coffees and a unique line of giftware.  Between Rounds offers patrons an upscale, fast-casual dining experience with free Wi-Fi.
Between Rounds is also a wholesale bagel supplier to many independent grocers throughout the region. Between Rounds signature bagels are delivered to grocers fully baked so no additional labor is required of the bakery department.
Between Rounds locations include South Windsor, Vernon, Manchester and Tolland and franchise opportunities are available. Corporate headquarters are located at 19A John Fitch Blvd, Route 5 in South Windsor, CT. For more information about grocer partnership or their unique franchise offerings, contact (860) 291-0323 or visit www.betweenroundsbagels.com.
Between Rounds Bakery Sandwich Café Adds Spicy New Bagel FlavorRead More