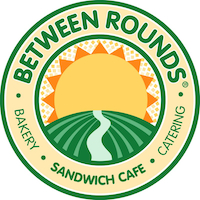 Between Rounds Bakery Sandwich Café, the unique bakery café and bagel shop with four locations in Connecticut, has recently announced their unique Between Rounds Fundraising Program.
The Between Rounds Fundraising Program simplifies the fundraising process for youth athletic teams, schools, theaters and other groups. Essentially, Between Rounds designates a specific week where a portion of sales goes directly to the fundraising group.
How it Works
The team or group leader makes arrangements with Between Rounds' corporate office for a fundraising week. The team/group leader is provided with a Between Rounds Fundraiser Week Flyer (PDF), which they are able to share with supporters as handouts or via email and social media.
Supporters spend a minimum of $10 on food/beverages at any Between Rounds location during the scheduled fundraiser week, and Between Rounds donates $1 per sale to the team/group.
The Between Rounds Fundraiser Week Flyer must be presented at time of purchase to ensure that a portion of the supporter's purchase goes to the appropriate team/group.
"This is an innovative way to raise funds for your team, group, or school," said Jerry Puiia, co-founder of Between Rounds. "Our program is easy to implement, and easy to promote via social media."
For more information, contact Jerry Puiia of Between Rounds 860-291-0323.
About Between Rounds
Founded in 1990, Between Rounds Bakery Sandwich Café is a unique bakery café and bagel shop renowned for their fresh, baked-on site bagels and baked goods as well sandwiches, wraps, salads, soups, specialty coffee and a unique line of giftware. Between Rounds offers patrons an upscale, fast-casual dining experience with free Wi-Fi and the added convenience of a drive-thru window.
Between Rounds is expanding and franchise opportunities are available. Between Rounds' current locations include South Windsor, Vernon, Manchester and Tolland.  Corporate headquarters are located at 19A John Fitch Blvd, Route 5 in South Windsor, CT.  For more information about Between Rounds franchise opportunities contact (860) 291-0323 or visit www.betweenroundsbagels.com.