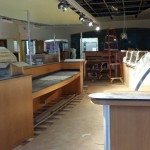 Between Rounds Bakery Sandwich Café has closed the doors of their Vernon store for renovation. The bakery café and bagel shop encourages customers to visit their Manchester store, which is just three miles away, at the Plaza at Buckland Hills, 1540A Pleasant Valley Road, Manchester, CT 06074. Customers can also visit the South Windsor store at 19 John Fitch Boulevard, Route 5, South Windsor, CT 06074 or the Tolland store at Citgo Express Gas Station, 206 Merrow Road, Tolland, CT 06084.
During Between Rounds Vernon renovation, staff will temporarily work in the Manchester store and all catering orders will be satisfied via the Manchester store.
Between Rounds Vernon is slated to reopen at the beginning of March. The store will have a new look, with upscale décor that boasts comfortable seating, carpeting, dedicated giftware displays and a more comfortable atmosphere overall. The redesign will facilitate faster customer flow.
Between Rounds is also hiring additional management, counter and baking staff for their Vernon store. Those interested in applying may download an application from betweenroundsbagels.com and bring it to any Between Rounds location.
For store hours and locations or for more information, visit www.betweenroundsbagels.com.
About Between Rounds
Founded in 1990, Between Rounds Bakery Sandwich Café is a unique bakery café and bagel shop renowned for their fresh, baked-on site bagels and baked goods as well sandwiches, wraps, salads, soups, specialty coffee and a unique line of giftware. Between Rounds offers patrons an upscale, fast-casual dining experience with free Wi-Fi and the added convenience of a drive-thru window.
Between Rounds is expanding and franchise opportunities are available. Between Rounds' current locations include South Windsor, Vernon, Manchester and Tolland.  Corporate headquarters are located at 19A John Fitch Blvd, Route 5 in South Windsor, CT.  For more information about Between Rounds franchise opportunities contact (860) 291-0323 or visit www.betweenroundsbagels.com.