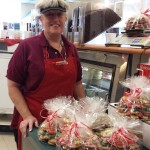 Between Rounds Bakery Sandwich Café, the unique bakery café and bagel shop with four locations in Connecticut, has recently appointed Phyliss Dombrowski as a full time Baker in their Vernon café.
Ms. Dombrowski will be responsible for baking bagels, rolls, breads and a variety of pastries and desserts daily for the Vernon location. She has more than a decade of baking, cooking and food service experience gained while working for Sodexo and Starbucks in Bloomfield, CT as well as for the City of New York Board of Education in NY, and Baxter Retirement Village and Baxter Regional Medical Center in Mountain Home, AR.
A native of Glendale, NY, Ms. Dombrowksi completed college coursework in medical coding and terminology while studying to become a medical assistant.
She resides in Manchester, CT.
"Phyliss is a dedicated and efficient baker with a wealth of experience. We're very pleased to have her on our team," said Jerry Puiia, co-founder of Between Rounds.
For store hours and locations or for more information, visit www.betweenroundsbagels.com.
About Between Rounds
Founded in 1990, Between Rounds Bakery Sandwich Café is a unique bakery café and bagel shop renowned for their fresh, baked-on site bagels and baked goods as well sandwiches, wraps, salads, soups, specialty coffee and a unique line of giftware. Between Rounds offers patrons an upscale, fast-casual dining experience with free Wi-Fi and the added convenience of a drive-thru window.
Between Rounds is expanding and franchise opportunities are available. Between Rounds' current locations include South Windsor, Vernon, Manchester and Tolland.  Corporate headquarters are located at 19A John Fitch Blvd, Route 5 in South Windsor, CT.  For more information about Between Rounds franchise opportunities contact (860) 291-0323 or visit www.betweenroundsbagels.com.