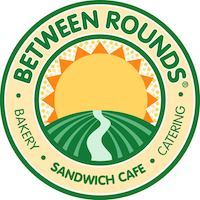 Between Rounds Bakery Sandwich Café, the unique bakery café and bagel shop with locations throughout Connecticut, has recently concocted two delicious new cream cheese flavors just in time for fall – Peach and Apple Caramel.
Between Rounds seasonal and innovative flavors are developed and produced in-house. They are available for a limited time only and will rotate depending on the month. The company's traditional cream cheese flavors that are menu staples include plain, low-fat vegetable, scallion, strawberry and vanilla raisin walnut.
The brainchild of Staten Island brothers Jerry and Joe Puiia, Between Rounds cafés are located in Vernon, South Windsor, Manchester and Tolland. The Puiia hallmark is manufacturing and selling their own bagels, which set them apart from other cafés. Now, they are quickly becoming known for new, offbeat cream cheese flavors handcrafted right in the store.
"We offer the traditional flavors, but the trend is flavors that have a little twist to them. Robust or unusual flavors are the most popular," explained Jerry Puiia, co-owner of Between Rounds.
According to Puiia, some flavors are more difficult to create than others. For example a single fruit-based flavor, such as Between Rounds strawberry cream cheese, doesn't have the ingredient complexity of their new apple caramel flavor. Also, flavors that are savory tend to have a more complex ingredient panel. One other consideration during creation of a new flavor is the shelf life. No preservatives are added to Between Rounds cream cheese creations.
Between Rounds encourages the community to suggest new flavors. Anyone who recommends a cream cheese flavor that Between Rounds adopts, will receive a certificate for a dozen bagels a month for six months. "Cream Cheese Flavor" suggestions may be emailed to info@betweenroundsbagels.com with your name and flavor suggestion.
About Between Rounds
Founded in 1990, Between Rounds Bakery Sandwich Café is a unique bakery café and bagel shop renowned for their fresh, baked-on site bagels and baked goods as well sandwiches, wraps, salads, soups, specialty coffee and a unique line of giftware.  Between Rounds offers patrons an upscale, fast-casual dining experience with free Wi-Fi and the added convenience of a drive-thru window.
Between Rounds is expanding and franchise opportunities are available. Between Rounds' current locations include South Windsor, Vernon, Manchester and Tolland.  Corporate headquarters are located at 19A John Fitch Blvd, Route 5 in South Windsor, CT.  For more information about Between Rounds franchise opportunities contact (860) 291-0323 or visit www.betweenroundsbagels.com.