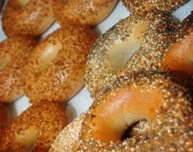 Perfect for moms on the go, teachers, the PTA and other groups, Between Rounds Bakery Sandwich Café, has rolled out a special "Back to School Breakfast Bundle".
Start the school year off right with a Between Rounds Back to School Breakfast Bundle that is perfect for family, friends and neighbors, teachers, and the PTA. The bundle includes 12 bagels, a box of fresh, hot coffee, one pound of any flavor of cream cheese as well as cups, creamers, sugar, stirrers, and napkins for $27.99.
"The Back to School Breakfast Bundle makes it easy for families, carpoolers, PTA members and others to quickly pick up breakfast for a crowd and go," said Jerry Puiia, co-founder of Between Rounds. "It's also a great 'you fly, I'll buy' way to treat your co-workers at break time."
With cafés in Manchester, South Windsor, Tolland and Vernon, Between Rounds manufactures their own bagels so customers enjoy the freshest, tastiest product possible, which sets them apart from other cafés.
Satisfying a Crowd
Catering is also available at Between Rounds. Whether it's a small get together or a large corporate event, Between Rounds can assist. Delivery is available and corporate accounts are available. For more information visit http://www.betweenroundsbagels.com/catering.html.
About Between Rounds
Founded in 1990, Between Rounds Bakery Sandwich Café is a unique bakery café and bagel shop renowned for their fresh, baked-on site bagels and baked goods as well sandwiches, wraps, salads, soups, specialty coffee and a unique line of giftware. Between Rounds offers patrons an upscale, fast-casual dining experience with free Wi-Fi and the added convenience of a drive-thru window.
Between Rounds is expanding and franchise opportunities are available.  Between Rounds' current locations include South Windsor, Vernon, Manchester and Tolland.  Corporate headquarters are located at 19A John Fitch Blvd, Route 5 in South Windsor, CT.  For more information about Between Rounds franchise opportunities contact (860) 291-0323 or visit www.betweenroundsbagels.com.