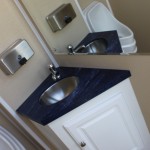 ElizaJ, providers of upscale, self-contained restrooms for special events, has recently added a posh, custom designed Restroom Trailer to their fleet that allows for flexible restroom arrangement.
Refined, Distinguished Restrooms
ElizaJ's new refined Restroom Trailer was designed by Eliza Kendall, ElizaJ's founder and president. It is custom painted and contains stunning hardwood floors, elderberry Corian counters, stainless steel sinks and dispensers along with a host of other elegant amenities including fresh floral sprays, mirrors, mats, wicker wastebaskets, designer soaps and lotions, name brand toilet and tissue paper and air fresheners.
The innovative trailer, known as "the Powder Room" has four restrooms which may be arranged in a variety of set-ups to suit any occasion: the more traditional two women's/two men's restroom set-up; two women/one Unisex/one men set-up and so on.
The new Restroom Trailer is available for rental beginning September 1, 2011.
"Our new Restroom Trailer rivals the restrooms you would see at the finest restaurants and department stores. It's absolutely gorgeous and the four restrooms will comfortably accommodate outdoor events of up to 350 attendees. Our upscale restrooms, along with our dedication to providing extreme customer service helps ensure a very successful and highly praised event each and every time," noted Kendall.
For more information, visit www.elizaj.com.
ElizaJ – Ahead with Class
ElizaJ company is one of the largest providers of elegant and environmentally friendly restrooms for outdoor events on the East Coast. Founded by Eliza Kendall, an event planner, ElizaJ is focused entirely on high quality products and first-rate customer service. Caterers, event planners, rental companies and families know that ElizaJ comes through for them each and every time. Over the years the ElizaJ® name (formerly Leave it to Liza®) has become synonymous with high quality and dedicated service. The company offers a 10 percent discount to non-profits.
ElizaJ is currently offering franchises. ElizaJ's franchise program is an ideal business opportunity for someone who is seeking additional income; looking to be their own boss; set their own hours and join the ranks of proud entrepreneurs.
ElizaJ is a proud member of the International Special Events Society (ISES); the International Festivals and Events Association (IFEA); the New England Franchise Association (NEFA); the International Franchise Association (IFA) and the Portable Sanitation Association International (PSAI). ElizaJ is headquartered in Harwich, MA. For more information, contact 800-437-1139; email info@elizaJ.com or visit their website at www.elizaj.com.
ElizaJ Adds Posh Custom Trailer to Fleet of Upscale RestroomsRead More