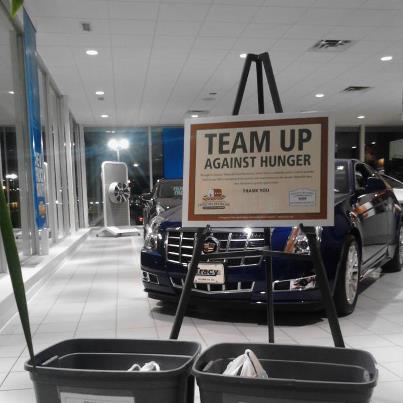 PLYMOUTH, MA…
Tracy Chevrolet Cadillac has partnered with the South Shore Community Action Council (SSCAC) on a canned food drive at the dealership's 137 Samoset Street (Route 44) in Plymouth. The drive will take place during the month of November and all donated goods will go to SSCAC's Greater Plymouth Food Warehouse, which provides food free of charge to more than 30 emergency food pantries and soup kitchens in the greater Plymouth area
"There's no better way to express gratitude for what you have by helping out those who have not been as fortunate," said Jeff Tracy, president of Tracy Chevrolet Cadillac. "With Thanksgiving just around the corner, we wanted to do something for families in the area who are having a tough time. We encourage everybody to stop by the dealership and make a contribution to the drive."
The food drive tubs are located in the Tracy Chevrolet Cadillac showroom at 137 Samoset Street. Canned goods and other non-perishables are welcomed and accepted.
"We can't thank Tracy Chevrolet Cadillac enough for hosting this food drive as our shelves are almost empty," said Beth Thompson, Food Resources Manager at South Shore Community Action Council. "The greater Plymouth area has grown quite a bit in recent years. While that's good on one hand, it also has meant that more people are in need of our services. That's why we truly appreciate when a business like Tracy Chevrolet Cadillac teams up to help out."
That kind of generosity is nothing new for Tracy Chevrolet Cadillac. Since its founding in 1992, the dealership has been involved in a number of charitable endeavors. That includes supporting The Driven Student Recognition for students at Plymouth North and South High Schools, the Boys & Girls Clubs, and many more.
For more information on Tracy Chevrolet Cadillac, visit www.tracymotors.com. To learn more about the South Shore Community Action Council, visit their website at www.sscac.org.
So easy at Tracy Chevrolet Cadillac
For more than 80 years and three generations of dealers, the Tracy family has made it so easy for customers on the South Shore and greater Plymouth area to purchase new and used automobiles. Since its beginnings in 1992, Tracy Chevrolet Cadillac has emphasized first-rate customer service and straightforward, bottom-line pricing with fair trade-ins every time–without the games or gimmicks you find at other dealerships. For more information on new and used trucks and automobiles, you can go to www.tracymotors.com or stop by the dealership, conveniently located at 137 Samoset Street, just off exit 6 on Route 3. For more information, or to make a service appointment, you can also call (800) 640-2884.
About South Shore Community Action Council, Inc.
Since 1965, South Shore Community Action Council has provided a range of critical services to low-income individuals and families on the South Shore of Massachusetts, and has toiled to combat the root causes of poverty in those communities. By strengthening and coordinating existing efforts, its mission is to eliminate poverty along the South Shore by affording everyone in need the opportunities for education, training and work; to live with dignity; to contribute to the full extent of their capabilities; and to participate in the workings of our society.