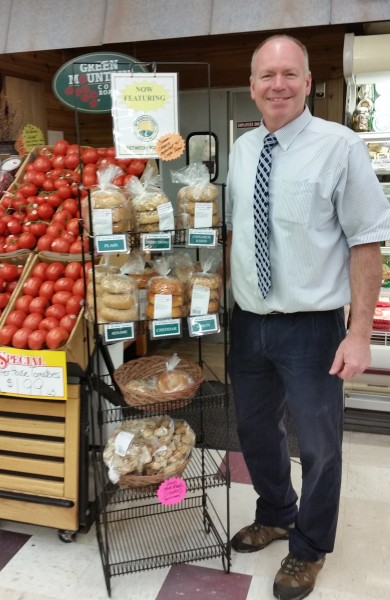 Two family businesses have teamed up and created a "recipe for success" in South Glastonbury.
Recognizing the high quality of Between Rounds Bakery Sandwich Café's baked-fresh-daily bagels, Gardiner's Market struck a deal with Between Rounds to carry their renowned signature bagels in the Bakery section.
Tom Gardiner, third generation of Gardiner's, who took the helm in 1983 with his wife Amy, explained, "Between Rounds is local and very well known. Their products are high quality, consistent and absolutely delicious. Our customers are happy because they know exactly what they are getting with the Between Rounds brand."
The family-owned Between Rounds has been in business for more than two decades and is the brainchild of brothers Jerry and Joe Puiia, who are Staten Island, NY natives.  Between Rounds current locations include South Windsor (corporate headquarters), Vernon, Manchester and Tolland.
"Our goal is similar to Gardiner's in that we both strive to make available the freshest, most delicious products possible.  We're delighted to work with Tom and Amy and honored to have Gardiner's Market carry our bagels. It makes it easier for anyone who does not live near one of our cafés to obtain our superior products right from their local market," said Jerry Puiia, co-owner of Between Rounds.
Gardiner's Market carries all flavors of Between Rounds bagels and is looking to offer additional Between Rounds baked goods as space allows.
"We strive to bring in local items from neighbors who work and live in the area. At the suggestion of one of our long-time staff members, we sampled Between Rounds bagels in consideration of bringing in their product line and we were really impressed. They are a big seller," explained Gardiner.
Family-made history
Gardiner's Market is family-owned and operated store.  The company founder, Elmer Gardiner opened the store in 1950. After 20 successful years, he and his son, Leon Gardiner, relocated and built a larger store at the current Main Street location in South Glastonbury in 1970. The "torch" was then passed along to Tom and Amy Gardiner, who run the store, while Tom's sister, Lynn, is the store's bookkeeper.  All five Gardiner children work in the store, bringing the total number of employees to 49. Many of the store's staff members have been with the company for decades. Gardiner's Market is located at 868 Main Street, South Glastonbury. For more information, visit www.gardinersmarket.net.
About Between Rounds
Founded in 1990, Between Rounds Bakery Sandwich Café is a unique bakery café and bagel shop renowned for their fresh, baked-on site bagels and baked goods as well sandwiches, wraps, salads, soups, specialty coffee and a unique line of giftware.  Between Rounds offers patrons an upscale, fast-casual dining experience with free Wi-Fi and the added convenience of a drive-thru window.
Between Rounds is expanding and franchise opportunities are available. In 2013, the company was selected as a Military Friendly Franchise®, which places Between Rounds Bakery Sandwich Café in an elite group and is testimony to the company's commitment to supporting military veterans interested in franchise opportunities.
Between Rounds' current locations include South Windsor, Vernon, Manchester and Tolland.  Corporate headquarters are located at 19A John Fitch Blvd, Route 5 in South Windsor, CT.  For more information about Between Rounds franchise opportunities contact (860) 291-0323 or visit www.betweenroundsbagels.com.
Supermarkets interested in carrying Between Rounds' products, contact Jerry Puiia,jerry@betweenroundsbagels.com.
Gardiner's Market Teams Up with Between Rounds to Offer Signature Product LineRead More