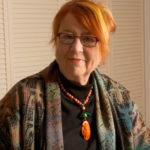 Coinciding with Hull artist Priscilla Beadle's 75th birthday, the public is invited to visit artists' studios July 8th and 9th from 10 a.m. to 4 p.m. on the Hull peninsula, plus one studio in Cohasset.
Free art tour maps are available at most Hull businesses for the self-guided visits. Children are welcome and on-street parking is available. Art lovers may choose to start at the beginning of Hull where maps are available at Gallery Nantasket, 121 Nantasket Ave, and work their way to the end of the peninsula on this free art tour.
Thirty six artists in 21 locations will show their fine arts and crafts for the 22nd annual Open Studios. Media represented include acrylic, oil, watercolor, fused plastic, colored pencil, cut paper, and mixed medium paintings, photography, textiles, jewelry, pottery, and mosaics.
Hull Artists is a tax-exempt non-profit organization founded in 1995. Over 75% of the membership are from Hull, Hingham and Cohasset. The remaining artists are from other South Shore towns. See HullArtists.com for more details.
July 8th also marks an important celebration for one Hull artist, Priscilla Beadle; it's her 75th birthday and the midpoint of her 2017 Necklace-a-Week Challenge. To celebrate turning 75, Priscilla Beadle challenged herself to create a one-of-a-kind beaded necklace each week in 2017. Each neckpiece originates from a different drawer of her 52 drawer apothecary chest.
When she reflects on the first half of 2017, Beadle confides that the challenge she began to reinvigorate her work has driven her on a path of self-discovery. Beadle enthuses, "I wake in the morning thinking about creative designs and go to bed planning what to put in my journal tomorrow. I discovered that the process of creating is what really excites me."
Reliving the acquisition of the beads in each drawer has stirred vivid, pleasant memories for Beadle. "Each day, the process of remembering and sorting has given me a new excitement about going to my studio and spending the time to design something spectacular," she says.
For this year's Open Studios, Beadle feels very self-confident and mentally trained as a strong necklace designer. Beadle explains, "Now I've had the chance to focus each week on something spectacular—I don't usually go to my studio thinking 'this is going to be the best necklace of the week,' some are ordinary and some remarkable. But through my challenge, I'm putting the effort into one necklace that speaks to my creativity that week—it's the most special necklace of the week."
Beadle has been making one or two other necklaces each week but she hasn't had time for much else. "This challenge has consumed me in a good way," Beadle reveals. The public is invited to visit Beadle's studio during Hull Artists' Open Studios weekend July 8-9 where many of her unique neckpieces will be on display and available to try on and to purchase.
Creating bead jewelry art since 1993, Priscilla Beadle first found inspiration for her bold, eclectic designs in the bazaars of Tibet and Nepal, in dusty shops in Beijing, on remote Indonesian islands reached by catamaran, in beautiful Bali, and in verdant Indochina—Laos, Cambodia, and Vietnam. Each Beadleful design starts with a centerpiece—add whimsy, color excitement, texture, chunky beads, a fabulous clasp—a collectable necklace is born.
Priscilla Beadle returned to her hometown, Hull MA, in 2011. For 34 years she had lived in California, eleven in the historic mission town of San Luis Obispo. She brought her business, Beadleful, with her and crafted a comfortable studio for her work on the ground floor of her home. The spark of Beadleful ignited when, after 23 years in the corporate world, Priscilla retired in 1993 to accompany her husband on his job assignment in Hong Kong. Southeast Asia became her handicraft fantasy world as she hunted for beads: –odd, large, ethnic, contrarian beads; antique or contemporary glass beads; rare and unusual colors; textures that lead to touching. Whether traveling the world or stalking New England galleries, successful bead hunting inspires the bold eclectic designs that characterize Priscilla's unique necklaces and bracelets.
For more information or to arrange a studio tour, please visit https://PriscillaBeadle.com/
Hull Artist, Priscilla Beadle Turns 75 and swings open the door to Open Studios Tour July 8-9.Read More