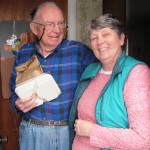 Old Colony Elder Services (OCES), the Brockton based regional agency that serves older adults and individuals with disabilities throughout the greater Brockton and Plymouth county area, recently organized a "March for Meals" in Wareham.
March for Meals is part of Meals On Wheels Association of America's (MOWAA) national campaign. On March 26, 2015, elected officials from Wareham and OCES staff delivered meals to 10 recipients in the community.
Alan Slavin, Chairman of the Board of Selectmen, and Judy Whiteside, Selectwoman, also helped pack meals at the congregate site before delivering meals. They were accompanied by Christine McLaren, OCES Community Programs Manager, Maribeth Waldron, OCES Nutrition Program Supervisor and Cheryl Johannessen, OCES Meal Site Manager in Wareham, as they delivered meals to local seniors.
"It's an honor to have local officials participate in our March for Meals event. Many older adults are homebound, unable to prepare meals, manage their grocery shopping or attend one of our congregate meal sites.  The Meals On Wheels program is essential for those who would otherwise not get a nutritious daily meal. Furthermore, the daily social contact is a crucial safety check of older adults living alone," explained Diana DiGiorgi, Executive Director of OCES.
The Meals On Wheels program serves individuals age 60 and over who are unable to prepare their own meals. Both the home delivered Meals On Wheels program and the congregate meal sites rely on the assistance of OCES' volunteers. If you are interested in volunteering for the meals program, or want more information about other volunteer opportunities, contact OCES' Volunteer Coordinator at 508-584-1561.
Lunch reservations for older adults and individuals with disabilities at the Wareham congregate meal site may be made by calling Cheryl Johannessen at 508-291-3100, extension 6514. Older adults who are interested in receiving meals delivered to their homes can call OCES at 508-584-1561 and request an assessment.
About Meals On Wheels Association of America
MOWAA is the only national association and network dedicated solely to ending senior hunger in America. For more information, visit their website at www.mowaa.org.
About OCES
Founded in 1974, OCES serves 20 communities in Plymouth County as well as Avon, Easton and Stoughton. OCES is a private, non-profit organization located in Brockton and designated as one of 27 Aging Services Access Points (ASAPs) in the Commonwealth of Massachusetts. OCES' mission is to support the independence and dignity of elders and individuals with disabilities by providing essential information and services that promote healthy and safe living. The agency has 210 employees and operates more than 15 programs serving older adults, individuals with disabilities, their families and caregivers. For more information call (508) 584-1561 or visit www.oldcolonyelderservices.org.