Spring cleaning should also apply to your sensitive paperwork.  With tax season almost behind us, the South Shore community is encouraged to take advantage of the free Shred-a-thon sponsored by and at the offices of the Investment Advisory Group located at 51 Mill Street, Building D – Suite 101, Hanover, MA  02339.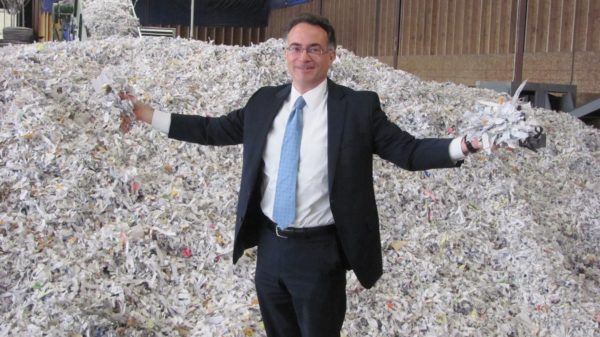 The event is set for Saturday, May 14 from 10 a.m. to 1 p.m.  The public is invited to bring their unwanted documents.
Shred King will be on site with a mobile shredding truck to slice through the details and dispose of all shredded material to a bonded recycling center, protecting the environment as well as your personal and business information.
"Identity theft and paper clutter loom over our shoulders," noted Jay Richards of Investment Advisory Group and sponsor of the free event.  He continued, "We strongly urge you to be proactive and protect yourself from identity theft by gathering up all those pre-approved credit card offers, old bills, out-of-date account statements and other personal documents that include confidential information and shred them at this event."
There are over 10 million identity theft victims in the U.S., according to ABC News.
What should you bring to the Shred-a-thon?  The list includes old checks/carbon copies of checks, bank statements, pay stubs, receipts, credit card offers, medical information, medical bills, bills, and retirement statements.
What not to bring to the Shred-a-thon? Please leave these at home or the office – phone books, newspapers, plastics, pop cans, plastic bins, computers and monitors.
About Shred King
Based in Holbrook, MA and serving all of Eastern, MA, Shred King is an AAA NAID certified company and a leader in document shredding, document storage, document imaging and tape rotation.  Whether it's mobile shredding, paper shredding, document shredding, or any other document destruction service designed to help you comply with HIPAA, the Graham-Leach Bliley Act, 201 CMR17, or any other mandated privacy protection requirement, Shred King takes on all projects large and small. "Investment Advisory group understands the gravity and scope of identity theft," says Don Cornell of Shred King Corp.  He continued, "Together, we make sure customers information is destroyed properly."
About Investment Advisory Group
Investment Advisory Group offers a full range of financial planning that takes into account every aspect of the client's life. The company provides ongoing, proactive and interactive communication. Investment Advisory Group shares the information the client will need to decide what steps to take to help protect what they've earned and to help provide for the future.  The company focus is independent thought, independent choice, and independent action – on the client's behalf.
For more information about the Shred-a-thon, contact Jay Richards, jayrichards@iagadvisors.com, (781) 826-1235, X 11.
Free Hanover Shred-a-thon Encourages Public to Protect Identity and Recycle.Read More