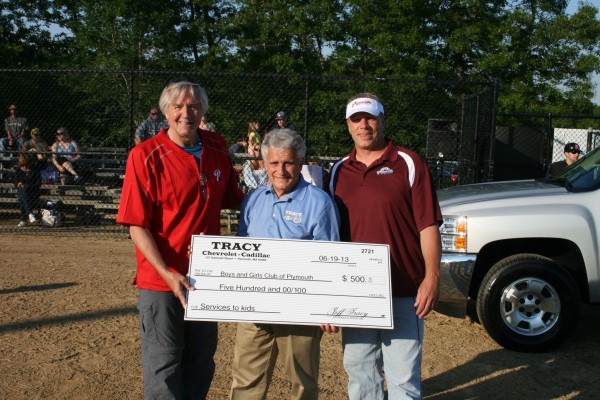 PLYMOUTH, MA…
Jeff Tracy, president of Tracy Chevrolet Cadillac, decided somebody was going to be a winner at the "Win a Free Car" night at the Plymouth Pilgrims last week. So when the fan selected to try and win a 2013 Silverado came up short in his effort to hit a ball off a tee out of the park, Tracy Chevrolet Cadillac donated $500 to the Plymouth Boys & Girls Club.
"It would have been great to give away a brand new truck but for somebody who's not an active baseball player hitting a ball off a tee is hard enough without having to drive it more than 300 feet to get it out of the park," said Tracy. "We decided somebody was going to walk out of the park with something and I can't think of a more worthy cause than the Boys & Girls Club."
The Plymouth Pilgrims' Owner Dave Dittman and General Manager Chris Patsos accepted the check on behalf of The Boys & Girls Club. John Fasolino of Tracy Chevrolet Cadillac presented the check on behalf of the dealership. Fasolino, who drove the Silverado onto the field for pre-game ceremonies, also had the honor of throwing out the first pitch along with Massasoit Community College's Charlie Wall.
"The Pilgrims have brought a lot of energy to Plymouth and we're delighted to be a sponsor and help bring this level of high-caliber of baseball to town. And, if that relationship can help out another local non-profit like the Boys & Girls Club along the way, that's even better," added Tracy.
So easy at Tracy Chevrolet Cadillac
For more than 80 years and three generations of dealers, the Tracy family has made it so easy for customers on the South Shore and greater Plymouth area to purchase new and used automobiles. Since its beginnings in 1992, Tracy Chevrolet Cadillac has emphasized first-rate customer service and straightforward, bottom-line pricing with fair trade-ins every time–without the games or gimmicks you find at other dealerships. For more information on new and used trucks and automobiles, you can go to www.tracymotors.com or stop by the dealership, conveniently located at 137 Samoset Street, just off exit 6 on Route 3. For more information, or to make a service appointment, you can also call (508) 830-0101.
Tracy Chevrolet Cadillac donates $500 to Boys & Girls Club as part of "Win a Free Car Night" at Plymouth PilgrimsRead More