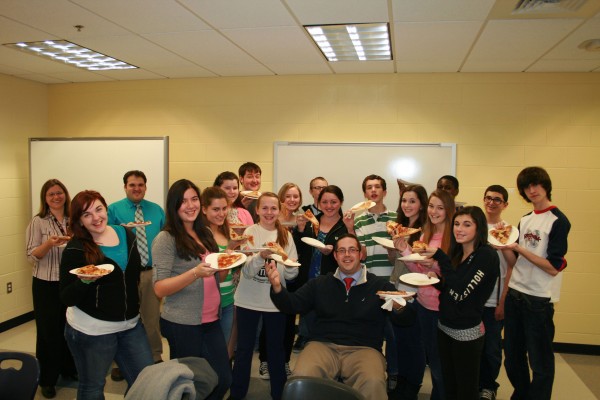 PLYMOUTH, MA…
For several years, Tracy Chevrolet Cadillac conducted a "Driven Student" program recognizing the achievements of local high school students inside and outside the classroom. The Plymouth dealership recently jumpstarted the program, honoring the 20 Plymouth North High School (PNHS) students that make up the a cappella singing group Northern Lights.
Directed by David Grossman, a music teacher in his first full year at Plymouth North, Northern Lights formed at the beginning of the school year and has already performed at the PNHS Pep Rally, Festival of Trees, and PNHS Winter Concert.
"For a group that just started together in September, the kids have come a long way in a very short amount of time," said Grossman. "That comes from a combination of talent, hard work and being open to teaching. The students in Northern Lights are all that and more and we're honored that Tracy Chevrolet Cadillac chose us as the opening act for the Driven Student program this year."
For being chosen as the Driven Students of the Month, the group received a pizza party courtesy of Tracy Chevrolet Cadillac. In addition to pizza and refreshments, each student also received a Tracy Chevrolet Cadillac drink koozie.
Yet it was the attendees who received the real treat as the group performed for Tracy Chevrolet Cadillac Sales Manager Joe Wilkerson.
"After that performance, I feel like we should have brought some ice cream, too. They were that good," said Wilkerson. "Seriously, we're delighted to bring back the Driven Student program and I can't think of a better way to kick off than program than this group of students."
Members of Northern Lights include: Shaelyn Helminiak, Rebecca Levy, Sarah Serrilla, Jaclyn Mennonna, Mackenzie Levangie, Merin English, Maria D'ambrosio, Veronica Cavanaugh, Jordan Brocklesby, Julia McBride, Conor Hurley, Kyle Blagg, Christian Hatfield, Eli Hovey, Shawn Westcott, Danny Osborne and Kevin Johnson.
For more information on Northern Lights and upcoming performances, you can visit their Facebook page at Facebook.com/northernlightsacappella,
Tracy Chevrolet Cadillac's Driven Student program recognizes Plymouth high school students for their performance and achievements in and out of the classroom. Awarded on a monthly basis, recipients are selected by faculty and advisors at the student's given school.
So easy at Tracy Chevrolet Cadillac
For more than 80 years and three generations of dealers, the Tracy family has made it so easy for customers on the South Shore and greater Plymouth area to purchase new and used automobiles. Since its beginnings in 1992, Tracy Chevrolet Cadillac has emphasized first-rate customer service and straightforward, bottom-line pricing with fair trade-ins every time–without the games or gimmicks you find at other dealerships. For more information on new and used trucks and automobiles, you can go to www.tracymotors.com or stop by the dealership, conveniently located at 137 Samoset Street, just off exit 6 on Route 3. For more information, or to make a service appointment, you can also call (508) 830-0101.