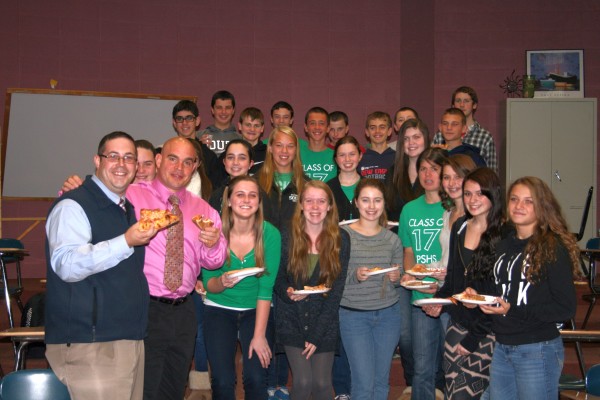 PLYMOUTH, MA…
As an incoming freshman, it can be difficult to stand out at a school the size of Plymouth South. In spite of the challenge of being the new kids on the block, 26 Plymouth South freshman have managed to distinguish themselves quite early in their high school careers, achieving a perfect attendance record and making the honor roll for the first term. For that, they were recently honored as winners of the Tracy Chevrolet Cadillac's Driven Student of the Month Award.
"Freshmen have a lot of adjustments to make when entering high school, including a heavier homework load. The best way to absorb all the new things they are learning is to be here and study. This group of kids has done that," said Marc Loranger, assistant vice principal and director of Plymouth South's freshman academy.  "What makes their accomplishment even more special is that these are the only students in the entire school—including upper classmen—who made honor roll and had perfect attendance."
For being chosen as the Driven Students of the Month, the group received a pizza party courtesy of Tracy Chevrolet Cadillac.
"Perfect attendance for more than a quarter is a noteworthy accomplishment on its own. To couple that with making the honor roll, that's really impressive," said Joe Wilkerson, general sales manager at Tracy Chevrolet Cadillac. "In selecting Driven Students, we look for kids who are going above and beyond inside and outside the classroom. These students have shown themselves to be very worthy recipients of our Driven Student Award."
Students selected for the Driven Student Award include: James Addison, Andrew Armenio, Alexandra Birch, Emily Cannon, Tyler Chiocchio, Robert Colbert, Sydni Dabkowski, Sarah Donlan, Caroline Elrick, Samuel Ferreira, Laura Francis, Alyssa Goyette, Cameron Hunter, Shannon Lyons, Andrew Mahoney, Emily Manson, Kevin McManus, Nicole Mullally, Eileen Murphy, Elizabeth O'keefe, Jabon Rooney, Emily Spillane, Allysia Tavekelian and David Trombly.
Tracy Chevrolet Cadillac's Driven Student program recognizes Plymouth high school students for their performance and achievements in and out of the classroom. Awarded on a monthly basis, recipients are selected by faculty and advisors at the student's given school.
So easy at Tracy Chevrolet Cadillac
For more than 80 years and three generations of dealers, the Tracy family has made it so easy for customers on the South Shore and greater Plymouth area to purchase new and used automobiles. Since its beginnings in 1992, Tracy Chevrolet Cadillac has emphasized first-rate customer service and straightforward, bottom-line pricing with fair trade-ins every time–without the games or gimmicks you find at other dealerships. For more information on new and used trucks and automobiles, you can go to www.tracymotors.com or stop by the dealership, conveniently located at 137 Samoset Street, just off exit 6 on Route 3. For more information, or to make a service appointment, you can also call (508) 830-0101.