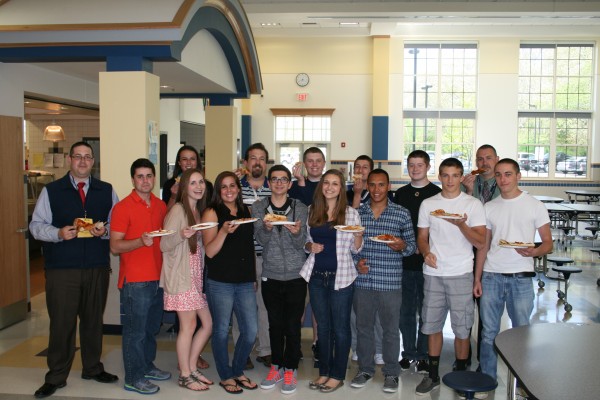 PLYMOUTH, MA…
The original Godfather movie made famous the line, "It's not personal, it's just business." For Plymouth North Technical Studies Marketing students participating in the DECA competition, however, business was personal. And taking it personally resulted in 14 students making it to the international DECA career development competition held in Anaheim, California on April 23-April 28, 2013. For that accomplishment, those 14 students received the Tracy Chevrolet Cadillac Driven Student of the Month award for May.
"DECA is an international organization that prepares emerging leaders and entrepreneurs in marketing, finance, hospitality and management in high schools and colleges around the globe," said Barry Cowgill, advisor to the Plymouth North marketing students. "While it's impressive enough that we had that many students make it to the international competition, three of those kids—Frank Gomes, Leif Burges and Calvin Ellis—won first place in the Knowledge Matters Virtual Business: Restaurant Simulation Event.  They beat out thousands of teams from all over the world."
For being selected Driven Students of the Month, all 14 students were treated to a pizza party, courtesy of Tracy Chevrolet Cadillac. Students recognized included:
Frank Gomes
Calvin Ellis
Leif Burgess
Ben Pieroni
Shawn Westcott
William DiGravio
Catherine Achille
Nicole Varrasso
Kiley Schranze
Victoria Gilmore
Anna Colbert
Sarah Liscov
Ryan Boudreau
Matthew Moore
"We may be in the business of selling automobiles, but marketing drives that business. So, we have a solid appreciation of the accomplishments of these students and they are most worthy recipients of the Driven Student of the Month honors," said Joe Wilkerson, Tracy Chevrolet Cadillac general sales manager.
Tracy Chevrolet Cadillac's Driven Student program recognizes Plymouth high school students for their performance and achievements in and out of the classroom. Awarded on a monthly basis, recipients are selected by faculty and advisors at the student's given school.
So easy at Tracy Chevrolet Cadillac
For more than 80 years and three generations of dealers, the Tracy family has made it so easy for customers on the South Shore and greater Plymouth area to purchase new and used automobiles. Since its beginnings in 1992, Tracy Chevrolet Cadillac has emphasized first-rate customer service and straightforward, bottom-line pricing with fair trade-ins every time–without the games or gimmicks you find at other dealerships. For more information on new and used trucks and automobiles, you can go to www.tracymotors.com or stop by the dealership, conveniently located at 137 Samoset Street, just off exit 6 on Route 3. For more information, or to make a service appointment, you can also call (800) 640-2884.
North students stack DECA…Tracy Chevrolet Cadillac recognizes Plymouth North's driven marketing students.Read More