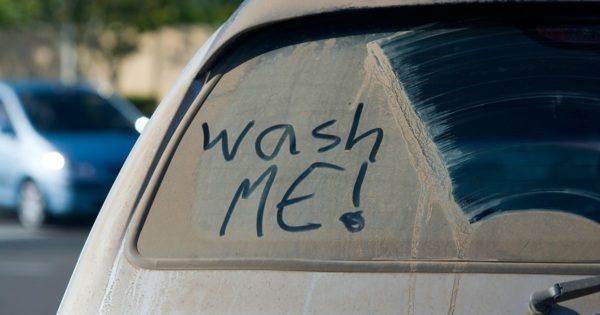 PLYMOUTH, MA…
Motorists celebrate the end of winter for many reasons. The end to inclement weather means no more salt on their automobile or truck. Yet that joy can be short-lived as we enter spring and pollen season. To combat the ever present yellow haze, Tracy Chevrolet Cadillac is hosting a Dirtiest Vehicle Contest, with the winner receiving free car washes for a year.
Participants can enter by submitting a photo of their dirty automobile—car, truck or SUV—on Tracy Chevrolet Cadillac's Facebook page. Vehicles receiving the most number of likes July 31 will receive a voucher for free external car washes at Tracy Chevrolet Cadillac for one year. The winner will also receive a $100 Tracy Chevrolet Cadillac gift certificate, which can be used at the dealership on repairs or accessories.
"Cars and trucks get dirty. That's a fact of life. Yet when you get into the warmer weather months, we have just as many things that dirty our vehicles as winter—pollen, tree sap, birds returning. Since we are based on the coast, we don't get a huge break from sand and salt as people head to the beach and transport items the items they use in the ocean," said Jeff Tracy, president of Tracy Chevrolet Cadillac.
No purchase is necessary to participate in the Dirtiest Car Contest. "Likes" will be tallied up at 5 pm. on Sunday, July 31 and announced on Friday, August 1. The winner must come down to the dealership to claim their prize.
For more information, visit Tracy Chevrolet Cadillac's Facebook page at https://www.facebook.com/TracyChevroletCadillacOfPlymouthMa or call 508-830-0101. 
So easy at Tracy Chevrolet Cadillac
For more than 80 years and three generations of dealers, the Tracy family has made it so easy for customers on the South Shore and greater Plymouth area to purchase new and used automobiles. Since its beginnings in 1992, Tracy Chevrolet Cadillac has emphasized first-rate customer service and straightforward, bottom-line pricing with fair trade-ins every time–without the games or gimmicks you find at other dealerships. For more information on new and used trucks and automobiles, you can go to www.tracymotors.com or stop by the dealership, conveniently located at 137 Samoset Street, just off exit 6 on Route 3. For more information, or to make a service appointment, you can also call (508) 830-0101.
Area motorists can clean up with Tracy Chevrolet Cadillac's Dirtiest Vehicle Contest.Read More