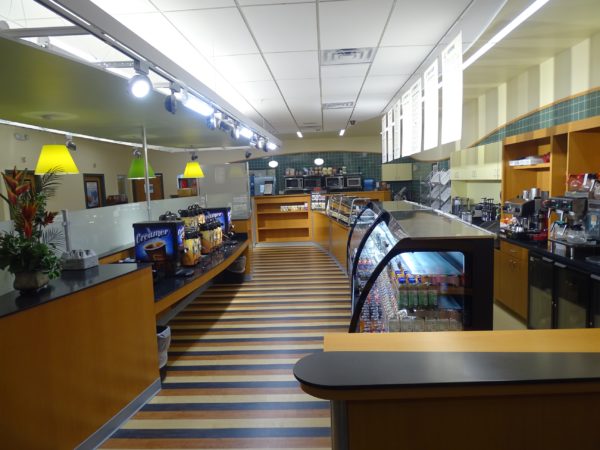 Between Rounds Bakery Sandwich Café of Vernon, CT was recently presented with the "2016 Tolland County Chamber of Commerce Award" for "Beautification in Tolland County".
In a ceremony, the Tolland County Chamber of Commerce presented Between Rounds Vernon founders, Jerry and Joe Puiia, with a beautification award for their extensive renovation of the shop, which is located in the Vernon Circle Shopping Center at 243 Hartford Turnpike.
Founded in 1990, Between Rounds is a unique bakery café and bagel shop renowned for their fresh, baked-on site bagels (in 14 different flavors), a variety of baked goods as well sandwiches, wraps, salads, soups, specialty coffee and a unique line of giftware.
"We are absolutely delighted to receive this special recognition," said Jerry Puiia. "The Vernon store redesign was so much more than a simple 'refresh' of flooring, lighting and equipment. It was a completely new and carefully considered design and renovation to improve the store's layout so we could serve customers faster and also show off all of our products, including our unique giftware."
A floor to ceiling interior renovation on Between Rounds' Vernon location was completed earlier this year, resulting in a chic, upscale look with more comfortable seating, unique and artistic decorative lighting features, innovative flooring and carpet, dedicated giftware displays and a cozier atmosphere overall.
Exterior renovations on the shop included the addition of a vestibule as well as a new storefront, complete with low-e glazing windows, which are energy efficient to reduce sun penetration and glare. Even Between Rounds' parking area was reconfigured to accommodate a new patio area surrounded by lush plantings.
Puiia continued, "We were able to create a modern, beautiful space where people can gather to relax and enjoy good food. We've had a very positive response from the community."
Between Rounds has been in business for more than two decades and is the brainchild of brothers Jerry and Joe Puiia, who are Staten Island, NY natives. Between Rounds locations include corporate headquarters in South Windsor, Vernon Circle Shopping Center in Vernon, the Plaza at Buckland Hills in Manchester, the independently owned Tolland store adjacent to a Citgo Express Gas Station and a second independently owned Vernon store (slated to open next month) at 229 Talcottville Road, adjacent to a Citgo Gas Station.
For more information about Between Rounds, visit www.betweenroundsbagels.com.
About Between Rounds
Between Rounds Bakery Sandwich Café offers patrons an upscale, fast-casual dining experience with free Wi-Fi and the added convenience of a drive-thru window. Between Rounds is expanding and franchise opportunities are available. Between Rounds' locations include South Windsor, Vernon, Manchester and Tolland, with a second franchise location opening soon at 229 Talcottville Road in Vernon. Corporate headquarters are located at 19A John Fitch Blvd, Route 5 in South Windsor, CT.  For more information about Between Rounds franchise opportunities contact (860) 291-0323 or visit www.betweenroundsbagels.com.
Tolland County Chamber of Commerce Honors Between Rounds with Beautification AwardRead More