HANOVER, MA…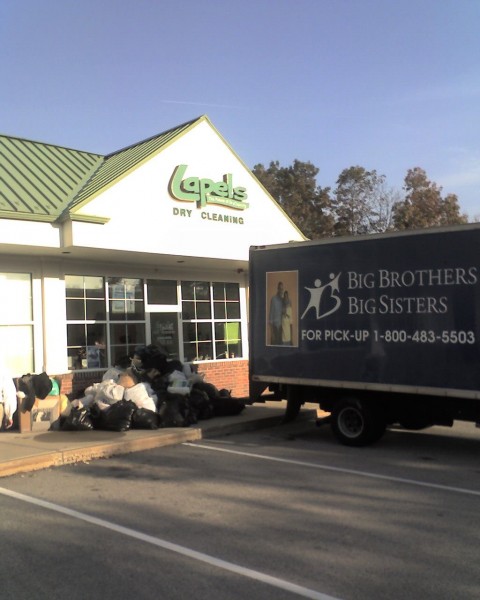 Having a "ton" of laundry is an often-used figure of speech. This year's Lapels Dry Cleaning Clothes Drive put a visual to this expression by collecting 4,073 pounds—more than TWO tons—for Big Brother and Big Sister of Massachusetts and Rhode Island.
The drive, held from May 5 through May 20, included significant contributions from 18 Lapels Dry Cleaning stores and plants in Massachusetts and one in Rhode Island.
"Our Massachusetts stores and our Lincoln, Rhode Island location really stepped it up for this clothing drive," said Kevin Dubois, CEO of Lapels Dry Cleaning. "Lapels prides itself on being environmentally friendly. A part of that is giving back to the communities we serve. We're grateful to have a customer base that shares that spirit of giving."
Some of the larger contributors to the clothing drive included the following stores:
Lapels of Norton (575 pounds)
Lapels of Hanover/Assinippi Corner (437 pounds)
Lapels of Walpole (345 pounds)
"With 18 Lapels stores participating in this drive it helped make this a huge success," said Ken Higgins, Big Brother Big Sister Dispatch supervisor.
As impressive as those numbers are, the biggest individual store contributing came from the smallest state. The Lapels of Lincoln, Rhode Island collected 600 pounds of clothing.
"We're so grateful for the contribution by Lapels customers and Lapels for coordinating the effort," said Laura LoBreglio, customer service manager, Big Brothers Big Sisters of the Ocean State. "Rhode Island may be the smallest state in the union, but this clothing drive shows how Lapels customers care about helping out fellow Ocean Staters."
Lapels Dry Cleaning – Environmentally Friendly Cleaners
Each Lapels Dry Cleaning store offers a full slate of services, including: same-day dry cleaning; shirt service; tailoring; shoe repair; wedding gown preservation; suede and leather processing; box storage and fur storage. Lapels Dry Cleaning has stores in Arizona (Gilbert, Phoenix), California (Poway), Colorado (Littleton), Connecticut (Cromwell), Louisiana (Monroe, West Monroe), Massachusetts (Abington, Bedford, Boston, Brighton, Cambridge, Dedham, Easton, Framingham, Hanover, Marshfield, Newtonville, Norton, Walpole, Westford, Westwood and Wilmington), Missouri (Wildwood), New Jersey (Brick, Freehold and Verona), Ohio (Liberty Towns), Pennsylvania (Bloomsburg), Rhode Island (Lincoln); South Carolina (Myrtle Beach, Pawleys Forest); Texas (Arlington). Additional locations coming soon to Chandler, AZ, Boston, MA, Quincy, MA and Brownsville, TX.
Lapels Dry Cleaning has been ranked in Entrepreneur's 26th Annual "Franchise 500" as well as Entrepreneur's "Top 50 New Franchises," identifying Lapels Dry Cleaning as one of today's top franchise opportunities. Entrepreneur's "Franchise 500" is the best and most comprehensive rating of franchises in the world and is based on objective, quantifiable measures of a franchise operation.
Lapels Dry Cleaning corporate offices are located at 962 Washington Street, Hanover, MA 02339.
To learn more about franchise opportunities with Lapels Dry Cleaning, call toll free (866) 695-2735 or email sales@lapelsdrycleaning.com. Additional information and up-to-date company news can also be found on the company's Web site, www.lapelsdrycleaning.com.