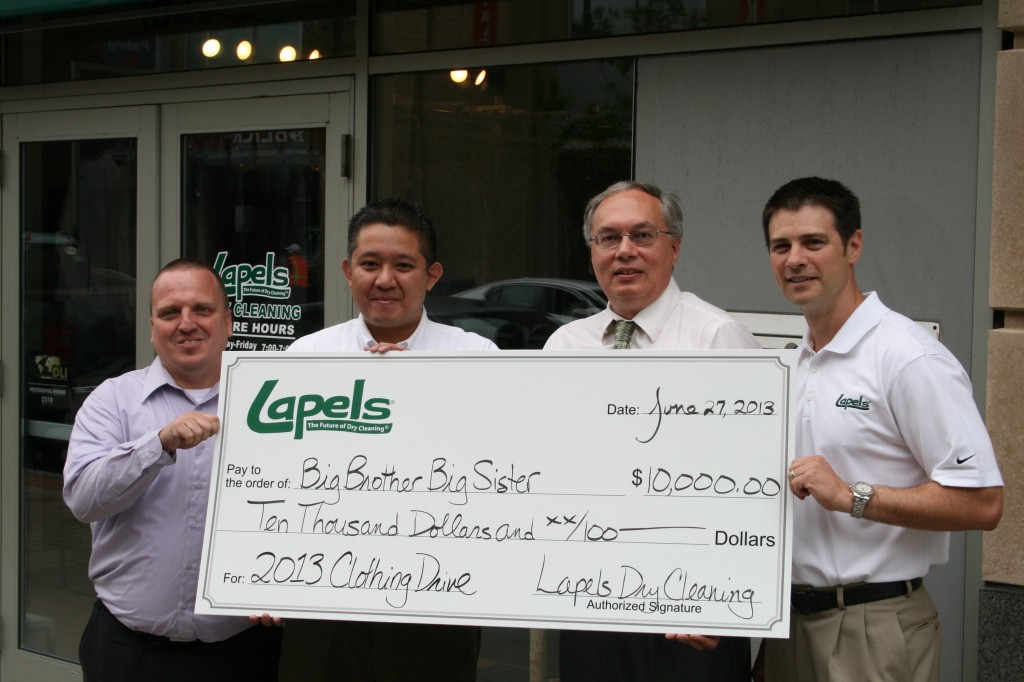 HANOVER, MA…
Last year, Lapels Dry Cleaning customers in Massachusetts donating nearly three tons of clothing in Lapels annual drive to raise money for Big Brother/Big Sister (BBBS). This year, Lapels Dry Cleaning customers topped that figure by donating 5,744 pounds of clothing.
"We have a few more locations in Massachusetts this year, but even so that is a staggering amount of clothing," said Kevin Dubois, CEO of Lapels Dry Cleaning, an environmentally friendly dry cleaner with more than 50 locations nationwide. "I can't really say I'm that surprised. Our customers have always been very generous and this year, with the recent bombings, I think the charitable side of people has really come out, both for the One Fund and other philanthropic endeavors. We're delighted that Big Brother/Big Sister can be the beneficiary of that generosity."
The estimated worth of the donated clothing to Big Brother/Big Sister is nearly $6,000 as the clothes will be resold at various thrift shops and other second hand clothing stores in the region. That brings the dollar amount from donations by Lapels Dry Cleaning customers to nearly $10,000 nationwide as Lapels conducted similar drives in Arizona, New Jersey and Rhode Island.
"I was thrilled last year with the very generous amount of donations made. This year, with nearly 1500 more pounds of clothes, I'd have to say me I'm speechless," said Steven Beck, an executive director of the Big Brother/Big Sister Foundation.
The drive, held from May 6 through May 19, included significant contributions from 22 Lapels Dry Cleaning stores and plants in Massachusetts.
Some of the larger contributors to the clothing drive included the following stores:
Lapels of Boston Trilogy(1495 pounds)
Lapels of Hanover (1380 pounds)
Lapels of Boston South End (736 pounds)
"Once again, we're so grateful for the contribution by Lapels customers and Lapels for coordinating the effort," said Ken Higgins, Big Brother Big Sister Dispatch supervisor. "Lapels has a great reputation for caring about its customers. The annual clothing drive shows how much Lapels customers care about people."
Beyond the Massachusetts stores, Lapels lone Rhode Island location in Lincoln, Rhode Island, contributed 391 pounds to the drive to the Big Brother/Big Sister organization in the Ocean State.
"Our New England stores really stepped it up for this clothing drive," said Kevin Dubois, CEO of Lapels Dry Cleaning. "Lapels prides itself on being environmentally friendly. A part of that is giving back to the communities we serve. We're grateful to have a customer base that shares that spirit of giving."
Lapels Dry Cleaning – Environmentally Friendly Cleaners
Each Lapels Dry Cleaning store offers a full slate of services, including: same-day dry cleaning; shirt service; tailoring; shoe repair; wedding gown preservation; suede and leather processing; box storage and fur storage. Lapels Dry Cleaning has stores in: Arizona (Gilbert, Phoenix, Chandler); California (Poway); Colorado (Littleton); Connecticut (Cromwell); Louisiana (Monroe, West Monroe); Massachusetts (Abington, Bedford, Boston, Brighton, Cambridge, Cohasset, Dedham, Easton, Framingham, Franklin, Hanover, Marshfield, Newtonville, Norton, Quincy, Walpole, Westford, Westwood and Wilmington); Missouri (Wildwood); New Jersey (Brick, Freehold and Verona); Ohio (Liberty Township); Oklahoma (Oklahoma City); Pennsylvania (Bloomsburg); Rhode Island (Lincoln); South Carolina (Myrtle Beach, Pawleys Island, Forest Village); and Texas (Arlington, Brownsville). Additional locations coming soon to Austin, TX, Cedar Park, TX, Natick, MA and Needham, MA.
Lapels Dry Cleaning has been ranked in Entrepreneur's 26th Annual "Franchise 500" as well as Entrepreneur's "Top 50 New Franchises," identifying Lapels Dry Cleaning as one of today's top franchise opportunities. Entrepreneur's "Franchise 500" is the best and most comprehensive rating of franchises in the world and is based on objective, quantifiable measures of a franchise operation.
Lapels Dry Cleaning corporate offices are located at 962 Washington Street, Hanover, MA 02339.
To learn more about franchise opportunities with Lapels Dry Cleaning, call toll free (866) 695-2735 or email sales@lapelsdrycleaning.com. Additional information and up-to-date company news can also be found on the company's Web site, www.lapelsdrycleaning.com.