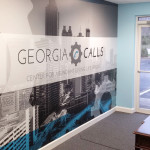 Just one year after launching, Georgia CALLS, the Georgia Center For Abundant Living Life Skills, a unique 501(c)3 non-profit helping high-risk, returning citizens make a successful transition from incarceration back into society as business entrepreneurs, has outgrown their current facility on Enterprise Drive in Buford and needs to relocate.
Georgia CALLS has kicked off fundraising for Phase I of their Campus Dream Project, which includes a new space to accommodate their expanding program, additional staff, and the costs to build-out that custom-designed, work/training facility.
The Campus Dream Project is a comprehensive solution-focused model that will meet the needs of both individuals and families searching for a second chance as they reintegrate with society. Campus Dream is Georgia CALLS on a grand scale, with numerous work opportunities, job/life skills training, transitional housing, a food bank, tutoring, after school programs, and childcare.
Georgia CALLS asks businesses and individuals to consider supporting Campus Dream when thinking about year-end giving.
"The Campus Dream Project will enable us to have the greatest impact in the community as possible. It will help us achieve generational change to break the cycle of recidivism," explained Mark Mobley, Executive Director of Georgia CALLS.
Supporting Campus Dream is an easy and personal way to make a difference for many people in the community. To learn more and support Georgia CALLS Campus Dream Project, visit Gofundme.com/georgia-calls.
About Georgia CALLS
Georgia CALLS, a program in partnership with the Governor's Office of Transition, Support & Reentry, the Georgia Department of Correctionsand Phillips Transitional Center, is transforming mindsets, growing leaders & building entrepreneurs up, one life at a time. Utilizing a powerful combination of exclusive job/life skills training, paid work experience in the call center, intensive case management services, and optional discipleship classes, participants in the Georgia CALLS program learn to build strong character, explore their own entrepreneurial desires, and in turn give back to their own communities. Georgia CALLS works to make a last community impact by cultivating entrepreneurs and mentoring participants to be the CEOs of their lives.