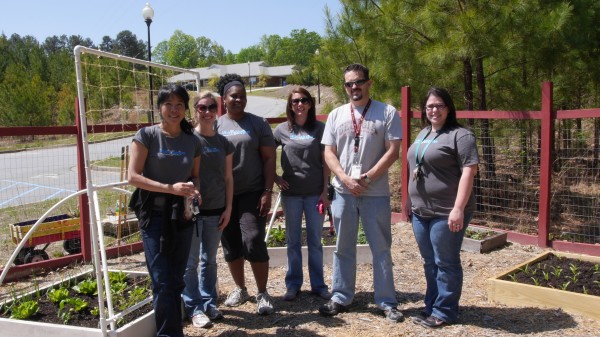 VoiceNation, a preferred call center partner for thousands of businesses nationwide, celebrated Arbor Day in a unique way this year.
On April 26th, instead of planting a tree, the VoiceNation employee volunteer team planted a vegetable garden at the Gwinnett Children's Shelter. The garden provides an opportunity for children residing at the shelter to learn more about the environment and obtain hands-on experience in maintaining, nurturing and harvesting their own food. The children will have a chance to get involved, and gain a sense of responsibility and accomplishment.
Armed with tools, plants and soil, VoiceNation arrived at the shelter with a dedicated team of six: Camille Childers, Caroline Culver, Kathy Levister, Ashley Pardue, and Joyce Wilmont. Sergio Perez of Gwinnett Children's Shelter also assisted the team. VoiceNation built an 8′ x 4′ planter to house existing watermelon and cantaloupe plants. They also planted tomatoes, cucumbers, strawberries and bell peppers.
"Volunteering gives us the opportunity to have a real impact in our local community; to give back and plant a seed for the future," noted Jay Reeder, VoiceNation's president.
Watch VoiceNation's inspiring video that captures their experience at Gwinnett Children's Shelter at http://www.qualityansweringservice.com/yourbusinessvoice/voicenation-volunteers-gwinnett-childrens-shelter-arbor-day.
Dedicated to Making a Difference
VoiceNation is dedicated to making a difference in the world. Their purpose,"To make the world a better place for those in it" is exemplified by the steps they take towards changing lives by helping others in the community and around the globe through specific volunteer initiatives.
Emphasizing the point that every action matters in the lives of others, VoiceNation provides a rich work environment and a company culture that encourages staff to get involved and take time to volunteer. In addition to outreach efforts in the local homeless community, VoiceNation gives outreach support to children living in local foster care facilities; recruitment campaigns with Goodwill of North Georgia Oakwood Career Center geared towards helping those greatly affected by hard economic times; and the global clean water initiatives of Voice4Nations.
About VoiceNation
VoiceNation is America's telecommunications leader in virtual PBX, voicemail, and innovative live answering solutions. Named "Top Provider in Industry" by PC World, VoiceNation provides live answering services and call center solutions utilizing the latest in proprietary technology to deliver high quality call answering services at the lowest cost to their customers. In this way, VoiceNation enables businesses of all sizes to compete in the marketplace with 24-hour availability that adapts to any situation.
Founded in 2002, VoiceNation is a privately-held company that serves more than 40,000 customers including FEMA, Blue Cross/Blue Shield, Dell, AIG and the U.S. Coast Guard. The company also provides qualified non-profit, tax-exempt charities with access to voicemail, faxmail and other specialized communication services at reduced cost through their Care2Call outreach program.
To learn more about VoiceNation, visit http://www.qualityansweringservice.com.