She knew it was love when they shared desserts of cheesecake and apple crisp on their first date at the Piccadilly Pub in Foxboro.
Soon thereafter, Kathy Jones, 51, a Quincy resident and Edward P. Mathers, 58, an Attleboro resident, became perhaps the first newlyweds of the New Year when they tied the knot on January 1, at 2 p.m. at First Baptist Church in Hingham. More than 100 were in attendance.
The wedding, the second for both the bride and the groom, was a family affair and included the daughter of the bride, Kimberly P. Jones as the maid of honor and Kathy's brother William Long walked her walked her down aisle.
Other participating family including grandson Gabriel Jones, 4, who served as the ring bearer; niece Brianne Killcommons, 5, as flower girl; niece Mary Lou Long assisted with a reading and son Mathew Jones served as an usher. Best man was Ron Stokes, a long-time friend of the groom.
The bride wore a bright red gown which she noted represents "a second chance at love."
The couple met through eLove, the nation's largest office-based dating service. Kathy commented, "The dating service was wonderful. They were very responsive and offered great tips and advice to make me more comfortable on my dates. Bless them. I would have never met Edward without their help."
Kathy continued, "They really matched us well. We have so much in common including a love for outdoor sports – kayaking and biking. We even went on our first camping trip with my family in July. Sometimes we just stay in and get cozy watching movies. Just spending time together is a pleasure."
Kathy added, "We are very open about meeting through a dating service. In fact, the massage therapist who I saw prior to the wedding ceremony was also married off by eLove. And Ed's tuxedo rental clerk also met his wife through eLove. We took these as very good signs."
The newly minted New Year's couple planned to honeymoon in Portsmouth and North Conway, NH prior to settling in Attleboro.
eLove is all you need
With more than 50 matchmaking offices in 25 states, eLove Matchmaking is everything that singles have been wishing for. eLove Matchmaking was voted "#1 Matchmaker" in 2010 and 2011 and their professional matchmakers have paired literally thousands of singles over the past three decades. In addition to a one-on-one meeting with each member, eLove conducts thorough background checks for the safety of everyone they match.
eLove Matchmaking offices are located in: Arizona (Scottsdale/Phoenix); Arkansas (Bentonville, Fort Smith, Little Rock); California (Costa Mesa, Palo Alto, Sacramento, Walnut Creek, San Diego, Santa Rosa, Westlake, West Hollywood); Connecticut (Glastonbury, Stamford); Illinois (Chicago, Normal, Schaumburg); Indiana (Carmel, Ft. Wayne); Kansas (Overland Park, Wichita); Maryland (Columbia, Frederick); Massachusetts (Newton, Norwell, Shrewsbury, Stoneham); Michigan (Bingham Farms); Minnesota (Bloomington); Missouri (Springfield, St. Louis); Nebraska (Lincoln, Omaha); Nevada (Las Vegas); New Jersey (Iselin, Saddle Brook); Ohio (Cincinnati); Oklahoma (Broken Arrow, Oklahoma City, Tulsa); Pennsylvania (Mechanicsburg, King of Prussia); Rhode Island (Warwick); South Carolina (Greenville); Tennessee (Memphis, Franklin); Texas (Austin, San Antonio); Virginia (Falls Church, Richmond); Wisconsin (Appleton, Elm Grove, Madison).
For more information on eLove, visit www.elove.com.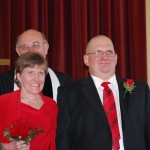 First Marriage of the Year – January 1, 2012, thanks to eLoveRead More