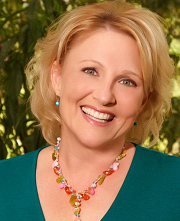 Did your online lover turn out to be a young boy playing a prank or an imposter? As in the documentary film and reality TV show "Catfish", some people go to elaborate lengths to misrepresent themselves online and "hook" you into relationship. Eventually meeting the imposter can be heartbreaking and worse.
Julie Ferman, eLove's Chief Relationship Expert, founder of Cupid's Coach, and recipient of iDate's Best Matchmaker award for the fourth consecutive year, shares five steps to help avoid this cruel deception:
Avoid the "bait and switch". Photos that look too good to be true probably are. Those looking to deceive have no qualms about letting you believe they look like the image they have shared. They want to draw you in, and the easiest way to do so is by misrepresenting themselves with an attractive image that often doesn't resemble the real person in the slightest.
Play the sleuth, if you haven't already. Cross-reference your date's information on his/her Facebook page with Twitter, their personal blog or with a professional page such as LinkedIn. If they make a claim that they hold a high profile job, visit that company's website to see if staff is listed. At the very least, do a simple Google or white page search for your date to verify if they even live in the town, or the state, that they say they do.
Let video speak the truth. Seek authentication. Forgo chatting online via Facebook and encourage video chatting online via FaceTime, Skype, Gmail or iGoogle.
Meet in person. Period. There really is no valid excuse for carrying on a relationship with someone for longer than two weeks and not meeting in person. If all your suggestions of meeting in person and/or video chatting online are skillfully avoided and something always comes up which prevents the two of you meeting, then you should be very concerned and seriously consider ending the relationship.
Assume the best, prepare for the worst. Most people are good, honorable and safe to meet. Don't be so cautious that you wall yourself off in your closet. Have the courage to get out there, attend events, meet up at business functions and online too. But do take these precautions to protect yourself in case you stumble upon a predator as they are indeed out there.
"No one likes to be deceived or 'catfished'. A successful relationship is based on a number of things, but most important are: spending time (in person) together, truthfulness, honesty, respect and ultimately, the concern or care you have for that other person. Misrepresentation plays no role in a successful relationship," explained Ms. Ferman.
She continued, "When it comes to helping others meet, find love and enjoy a successful long-term relationship, we take steps to ensure authenticity. Prior to making an introduction, we meet face-to-face with both parties and verify their identity. Then we go to great lengths to get to know each member and introduce them to qualified matches. After each date, we obtain feedback from both parties immediately."
eLove is All You Need
eLove was honored with four coveted awards from iDate, including Best Matchmaker, Most Innovative Company, Best Dating Coach, and Best Affiliate Program.eLove is the first "life stage company" within the dating industry to provide different levels of dating services, based on how serious singles are about meeting their soul mate. Never before has a dating service catered so completely to everyone regardless of their age, sex, or relationship goals. With more than 35 matchmaking offices in 19 states and three offices in Canada, eLove Matchmaking is everything that singles have been wishing for whether they are looking for better quality dating experiences or a long term relationship.
Elove's Matchmaking offices are located in: Arizona, California, Connecticut, Illinois, Indiana, Maryland, Massachusetts, Michigan, Minnesota, Nebraska, Nevada, New Jersey, Ohio, Pennsylvania, Rhode Island, South Carolina, Texas, Virginia, Wisconsin, and in Canada: Calgary, Mississauga, Edmonton.
###
If you would like more information about this topic, or to schedule an interview, please call Terry Fitzpatrick at 781-982-4522 or email pr@elovecorp.com.
Don't be "Catfished" for Valentine's Day – 5 Steps to Help Avoid Online Dating DeceptionRead More