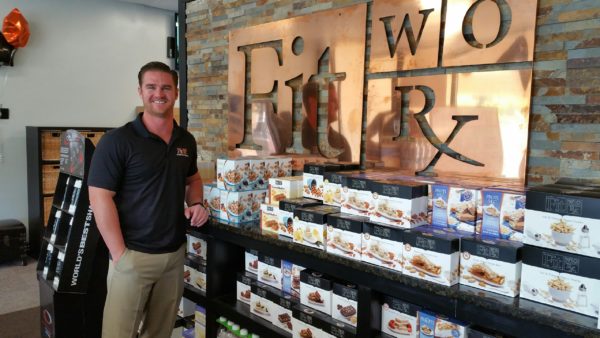 Coming off of active duty in Korea, Patrick "Pat" S. Lydon, Army Medic, wanted to contribute something to the community and stay active in fitness.  He helped open the first FitWorx location in Pembroke three years ago and continued to help the company grow.  He has been named Assistant Area Director for the entire group which now includes not only Pembroke, but Weymouth, Easton and West Roxbury locations as well.
A Quincy resident and Braintree native, Lydon is a graduate of Braintree High School and earned an Exercise Science degree from Quincy College.   He also achieved American Council of Exercise certification as a personal trainer.  He captained the lacrosse team and lettered in football as Braintree High School.
"I had always been involved in sports and fitness," noted Lydon.  He added, "I saw that baby boomers and others were looking to get back in shape and were in need of better instruction and programming.  I was drawn to the FitWorx philosophy of losing weight and building muscle via three 30-minute strength-training workouts per week and a high protein diet. Working one on one with members, it has been gratifying to be part of something that is transforming the lives of the 85 percent of the American public who hate to workout."
FitWorx, the "non-gym" solution for a healthy lifestyle and weight loss with four locations in Massachusetts, supplements that effort by offering high quality, great tasting protein snacks and meal replacement shakes.
Get with the Program
FitWorx helps real people achieve a realistic weight loss goal with manageable, proven approaches to weight loss and fitness. FitWorx training and nutrition program is designed to help members reduce body fat percentage by increasing lean muscle by up to 10 pounds. It achieves this through three 30-minute strength-training workouts per week and a high protein diet. Typically, participants can increase their metabolism by up to 500 calories per day, or 3500 calories per week or one pound of fat per week at a resting heart rate.
Langella continued, "The FitWorx program sets participants, in particular those with sedentary lifestyles, weight issues or medical conditions such as High Blood Pressure, Type II Diabetes and High Cholesterol, on the path to weight loss and an overall healthier lifestyle."
To learn more about FitWorx and their "90 Days to a New You" program or to sign up for a two-week free trial, visit www.FitWorx.com or call (617) 651-5236.
About FitWorx
FitWorx is the "non-gym" solution for a healthy lifestyle and weight loss. Offering a personalized fitness program that combines nutrition with customized workouts, and the ongoing guidance and support of a personal FitCoach, FitWorx has helped thousands achieve their weight loss goals and attain and sustain a healthy lifestyle. Each member is provided with the guidance of a FitWorx certified personal trainer, known as a FitCoach, at every visit, ensuring that each step taken brings the member one step closer to his/her goal. Through a well-rounded program of Strength training, Cardiorespiratory fitness, Flexibility (stretching) and Weight loss management, FitWorx is dedicated to helping every member adopt a healthier lifestyle and succeed in meeting their weight loss goals.
FitWorx officially opened doors in 2013, and has quickly grown to four locations in Massachusetts: Easton, Pembroke, West Roxbury and Weymouth. The company is currently looking toward national expansion through franchise development.
To learn more about FitWorx or to sign up for two-week free trial, visit www.FitWorx.com.
Army veteran takes on fitness with a sense of duty. Patrick S. Lydon named Assistant Area Director of FitWorx.Read More