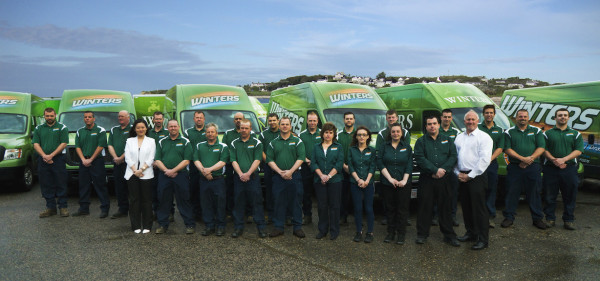 Winters Home Services, an award-winning provider of plumbing, heating, cooling, and air quality services based in Cambridge, MA, offers homeowners tips to prepare for the cold weather and conserve energy.
With 20 years in the business and 60,000 happy customers, Winters owner Tim Flynn understands New England weather and the critical heating and home issues that can arise. Flynn offers these tips:
Inspect vents and chimneys to make sure they are unobstructed. Clear leaves and vines; prune shrubs and plants so they do not block vents. Anything around a vent or chimney needs to be removed as it can block the exhaust, which can cause carbon monoxide to back up into the home as well as trigger heating system shut-off or malfunction.
Install, check and/or replace smoke alarms and carbon monoxide detectors. Both fire and carbon monoxide can be deadly and silent. Manufacturers recommend replacing detectors every five years.
Have a professional heating and cooling inspection and tune-up. Homeowners expect their heating and cooling systems to work 24/7, yet they never have them inspected. An out of tune heating or cooling system works harder, wastes energy and actually costs more to run. Annual inspection and maintenance of home systems is imperative. Filters are typically changed annually, but Winters recommends changing filters a minimum of three times per year to ensure the systems are working at their optimum.
Monitor energy consumption and control usage through new technology. Through Winters CarePlus Home Monitoring program, homeowners are able to measure their energy usage and reduce it by easily controlling heating and cooling remotely via a Smart device.
A Smarter, Safer Home
Not only does it help conserve energy, Winters' CarePlus Home Monitoring program provides safety and peace of mind by enabling homeowners to monitor and access their home's most important systems – from water sensors and home energy meters, carbon monoxide detectors and thermostats to lights, door locks and more- through any Smart device.
According to Flynn, "Essentially, CarePlus provides home automation and monitoring to ensure the optimal operation and safety of home systems and the maximum in energy savings, backed by 'first-in-line' service and accountability that only a local company can provide. At the first sign of trouble, such as a leak or significant temperature change, a damage prevention alert is sent to the homeowner's Smart device. The homeowner can then resolve the issue through their Smart device or call in the cavalry – the Winters team – to fix the problem before it becomes a catastrophe."
Three different CarePlus plans are available. All plans include at least two annual visits from Winters, where 137 heating, cooling and plumbing items are checked, along with check-ups on all monitoring devices without additional costs.
To schedule heating and cooling home maintenance or CarePlus consultation, contact Winters at 866-482-7586.
For a limited time, new CarePlus Home Monitoring customers will receive a free Mass Save Thermostat (with redemption), as well as discount off monitoring devices. Winters provides standard next-day installation. To learn more, visit www.wintershomeservices.com.
About Winters Home Services
Founded in 1994, Winters Home Services is an award-winning service company based in Cambridge, Massachusetts, specializing in plumbing, heating, cooling, drain cleaning and air quality services. Offering the first-to-market CarePlus Home Monitoring Program and lifetime guarantees on many of their services, the company focuses on high quality workmanship and consistent world-class customer service. Winters Home Services promises to fulfill the needs of every customer with a sense of urgency, ensuring comfort, safety and well-being.
Winters Home Services is one of the largest residential plumbing companies in the greater Boston-area with a large fleet on the road and a full staff of licensed and insured plumbers and technicians.
Dedicated to supporting the community, Winters is a sponsor of the Duckling Day Parade annual Mother's Day event and a partner of the Friends of the Public Garden, a non-profit organization that works to protect and improve Boston's first public parks: the Boston Common, Public Garden, and Commonwealth Avenue Mall. The company is an ongoing supporter of events at Club Café.
For more information, call 866-482-7586 or visit wintershomeservices.com.
Winters Home Services Offers Tips to Prepare for Cold Weather and Conserve EnergyRead More