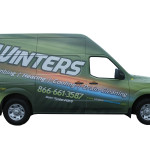 As a good sign of the economic times, Winters Home Services, providers of plumbing, heating, cooling and air quality services to homeowners, has experienced significant growth, partially due to expansion into the area west of Boston. The company will be doubling the number of licensed plumbing staff.
Winters Home Services is currently hiring licensed plumbing apprentices and journeyman plumbers to work with their master plumbers serving residents throughout the greater Boston area.
"We seek to attract and retain qualified, skilled plumbers and apprentices who are looking for a great career, not just a job. To that end, we provide a positive workplace where staff is empowered, education is ongoing, and leadership and personal growth are truly valued," said Tim Flynn, president of Winters Home Services.
Winters Home Services is an equal opportunity employer. The company is also working with Troops to Trades. Veterans interested in working in plumbing, heating, and air conditioning service industry are encouraged to learn more about  opportunities at Winters.
For career opportunities or to submit a resumé, visit wintershomeservices.com/careers.php
About Winters Home Services
Founded in 1994, Winters Home Services is an award-winning service company based in Cambridge, Massachusetts, specializing in plumbing, heating, cooling, drain cleaning and air quality services. Offering 24-hour emergency services and lifetime guarantees on many of their services, the company focuses on high quality workmanship and consistent world-class customer service. Winters Home Services promises to fulfill the needs of every customer with a sense of urgency, ensuring comfort, safety and well-being.
Winters Home Services is one of the largest residential plumbing companies in the greater Boston-area with a large fleet on the road and a full staff of licensed and insured plumbers and technicians. For more information, call (617)-776-5950 or visit wintershomeservices.com.