Old Colony Elder Services (OCES), the non-profit agency proudly serving older adults and individuals with disabilities throughout greater Plymouth County, held a special "March for Meals" event in Easton, MA.
Honoring 50 Years
Meals on Wheels America and local programs such as OCES' Nutrition Program, and others across the country, celebrated a very special March for Meals honoring the 50th anniversary of the Older Americans Act Nutrition Program, the federal legislation that provides funding for nutrition services for seniors and helps support programs like Meals on Wheels.
OCES' March for Meals campaign included a Community Champions component which is when local elected officials and Council on Aging (COA) Directors participate along with OCES to deliver meals, speak out for seniors and raise awareness for the power of their work. This special March for Meals lunch (grab & go style) was held on March 24th.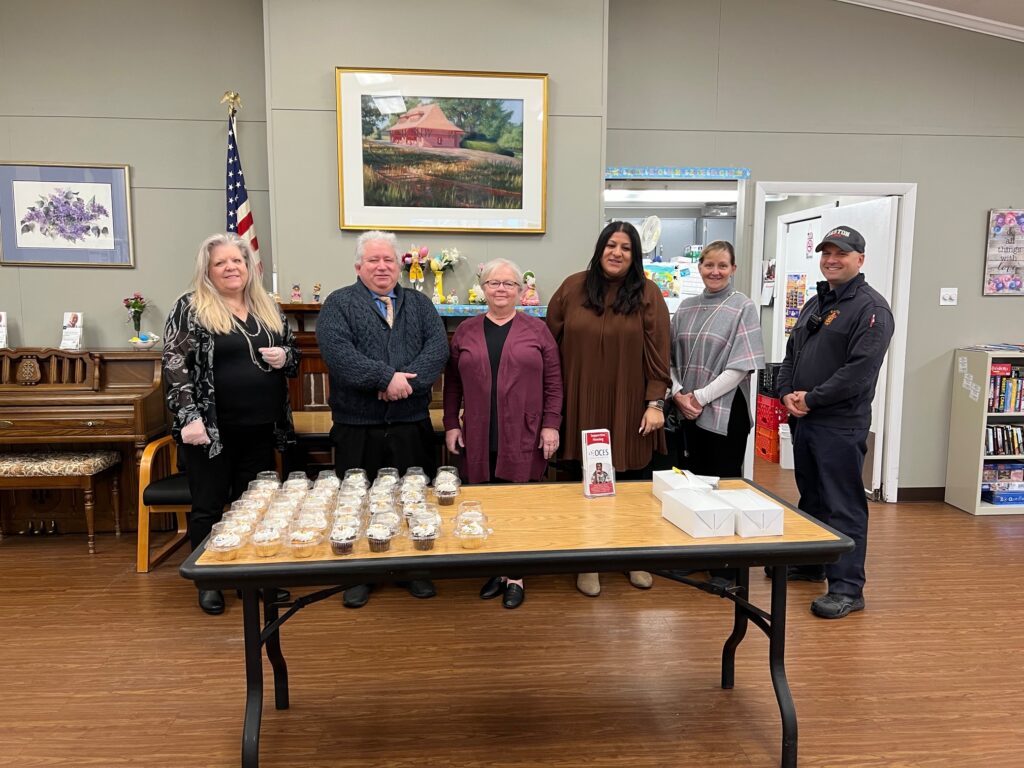 Senator Michael Brady's assistant, Alfred DeGirolamo, along with Easton Council on Aging Director Kristin Kennedy; Program Director Anne Daley; Easton Public Health Officer Timothy J Vamosi; OCES Supportive Housing Specialist Shikha Datta; OCES Community Programs Director Brenda Carrens; and OCES Nutrition Supervisor Jean-Marie Finn provided nutritious "Grab and Go" meals to residents at the Easton Housing Authority on Parker Terrace.
According to Nicole M. Long, OCES CEO, "The Nutrition Program is critical to many homebound older adults who are unable to prepare meals or manage grocery shopping. In celebration of the 50th anniversary of the Older Americans Act Nutrition Program, our March for Meals events gave older adults opportunities to meet the dedicated individuals serving our communities and supporting the vital Meals on Wheels programs."
Over the past year, the COVID-19 pandemic brought about many new challenges, but OCES continues to adapt and safely serve the needs of their consumers and communities. According to Meals on Wheels America, eight out of ten local Meals on Wheels programs are still serving more home-delivered meals than they were prior to the pandemic.
All of OCES' nutrition meals are planned by a Registered Dietitian. OCES has hundreds of volunteers in their Nutrition Program delivering over 1,900 nutritious meals each weekday to homebound recipients living in greater Plymouth County.

For more information about OCES' Nutrition and Meals on Wheels program, contact Brenda Carrens OCES' Community Programs Director at 508-582-1561 ext. 252.
To learn more about Meals on Wheels America, visit https://www.mealsonwheelsamerica.org
About OCES
Founded in 1974, OCES proudly serves greater Plymouth County and surrounding communities. OCES is a private, non-profit organization headquartered in Brockton with a second office in Plymouth. OCES is designated as one of 25 Aging Services Access Points (ASAPs) in the Commonwealth of Massachusetts. OCES' mission is to support the independence and dignity of older adults and individuals with disabilities by providing essential information and services that promote healthy and safe living. The agency offers a number of programs to serve older adults, individuals with disabilities, their families and caregivers. For more information call 508-584-1561 or visit www.ocesma.org. 

Older Americans Act Nutrition Program 50th Anniversary. OCES Celebrates with Special "March for Meals" Event in EastonRead More