EASTON, MA… Helping businesses achieve the next level of success through onboarding, retention strategies, performance management programs, training, compliance and other areas of human resources (HR), Ross Insight Solutions offers comprehensive outsourced HR services to small and medium-sized businesses across all industries.
Based in Easton and serving Massachusetts, Rhode Island and beyond, the recently launched Ross Insight Solutions is an HR firm founded by Carolyn Ross, J.D., an HR expert with nearly 25 years of leadership experience in all aspects of human resources management across diverse industries.
A Tailor-Made Approach
Ross Insight Solutions enables businesses to solve their people needs through better HR practices. They work with business owners and/or management to provide a customized approach in areas that include: HR strategy and alignment with business goals and objectives to facilitate success; talent acquisition programs for better hiring and onboarding of employees; compliance with employment-related legal and regulatory requirements; employee relations and effective performance management programs; tailored training, development and coaching for management and staff; total rewards (compensation and benefits) programs; and creating a workplace culture that not only increases employee retention, but also maximizes employee engagement.
Standing Out
Prior to her extensive career in human resources, Ross practiced law in a general practice and owned one of the first mediation businesses in the northeast. Ross Insight Solutions' legal expertise and extensive experience in all aspects of HR management across diverse industries is what differentiates the firm from others. The firm is uniquely qualified to assess and ensure that companies remain in legal and regulatory compliance and have the necessary policies and procedures in place to mitigate risk.
Ross holds a Bachelor of Arts in psychology/business from Skidmore College along with a Juris Doctor degree from Suffolk University Law School. She holds certificates in HR Management from Bentley University; Coaching for HR Professionals from Center for Creative Leadership (CCL); Leadership Development for HR Professionals from CCL; is a certified mediator by Coast-to-Coast Mediation; and was formerly a certified Personal Renewal Group facilitator through Renee Trudeau & Associates.
Ross is a member of Northeast Human Resources Association (NEHRA), Society for Human Resource Management (SHRM), Senior Human Resources Network (SHRN), Vistage, and Spahk Network. She is a resident of Easton, MA.
"Lack of time and resources is a challenge for many businesses experiencing significant growth and demand," said Carolyn Ross, founder. "When the focus is entirely on day-to-day operations, it means the only HR tasks that are completed are the absolute basics. That's where we can help."
Ross Insight Solutions provides expert HR services to companies that do not have a dedicated in-house HR person or department, or that need temporary augmentation of their existing HR team in order to:
• Create HR processes, programs and policies
• Recruit and onboard new staff
• Train and develop management and staff
• Ensure legal and regulatory compliance
• Improve employee retention and engagement
The firm also provides interim HR leadership when companies are recruiting for an HR leader or their regular HR leader is on a leave of absence.
To schedule a complimentary HR consultation and to learn more about Ross Insight Solutions, visit https://rossinsightsolutions.com.
About Ross Insight Solutions
Ross Insight Solutions is enabling small and medium-sized companies to transform their business through their people. As a human resources (HR) consulting firm, Ross Insight Solutions' legal expertise and extensive experience in all aspects of HR management, across diverse industries, differentiates them from other firms. Ross Insight Solutions offers a tailor-made approach to HR management, support and strategies to help organizations and their people achieve the next level of success. Services include talent acquisition/onboarding, training/development/coaching, performance management, total rewards, compliance, retention/engagement/culture, strategic planning and more. To arrange a complimentary HR consultation or for more information, contact 774-250-5005 or visit https://rossinsightsolutions.com.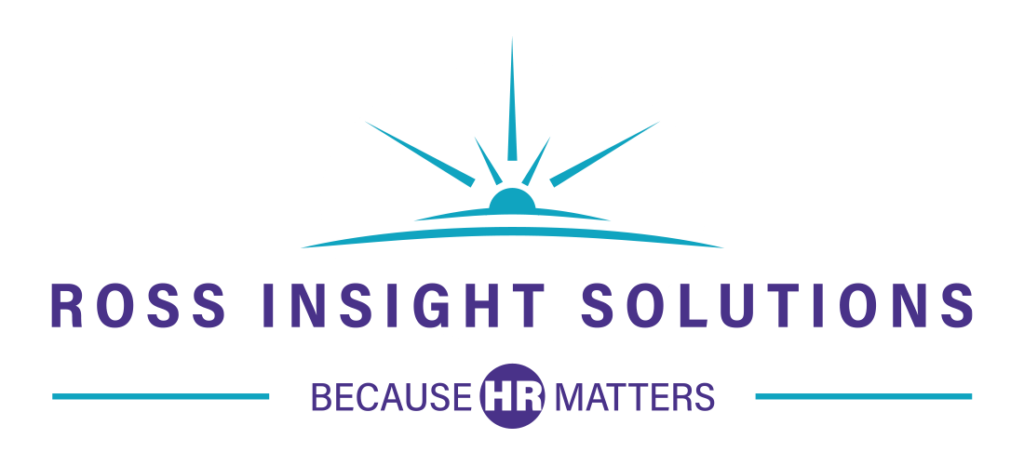 Boutique HR firm launches in Easton, MA to help businesses with HR strategy, talent acquisition, training, compliance and moreRead More